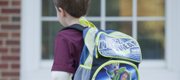 Subscribe to the email edition of First Bell and we'll deliver you the latest local education news and notes every weekday at noon.
A few notes and items regarding education in the area:
The Lawrence school district learned over the weekend that it wouldn't need to be searching for more budget cuts entering the coming school year.
Turns out $3 million is enough.
Lawrence school board members already have signed off on plans to save a little more than $3 million through a combination of cuts, increased revenues and planned increases in efficiency.
That's the total necessary to offset reductions in per-pupil state financing that will be expected to come back to the district during the 2011-12 school year. Kansas legislators approved the state's operation budget over the weekend, and cuts to education were equal to what Gov. Sam Brownback had proposed early on.
Those are the numbers officials in Lawrence had been bracing for.
Planned cuts include closing Wakarusa Valley School, dipping into contingency and other savings funds, relying more on bulk purchasing, eliminating two teaching positions that had been expected to be added at the high-school level, and taking over operations of the Lawrence Diploma Completion Program.
Administrators are busy putting together a budget plan, one that already includes components endorsed by the district's seven board members but will be up for approval this summer by the "new" board: returning incumbents Mark Bradford, Bob Byers and Vanessa Sanburn, along with incoming members Rick Ingram, Shannon Kimball, Randy Masten and Keith Diaz Moore.
The $3 million loss follows a $4.6 million decline for this year and on top of a cut of more than $3 million from the previous year.
"When you have a wet towel, and you're twisting and wringing out the towel, and the legislature twists it a little harder each session — that's what it feels like," said Rick Doll, district superintendent. "They're just twisting the towel, to get a few more dollars out. They don't have to make the difficult decisions. We have to make the difficult decisions, and it's a frustrating position to be in."
•••
Related document

To help make sense of it all, the Lawrence district will be hiring a new chief operations officer to replace its departing one, with hopes for the new administrator to be in place by the time the current one leaves.
Doll said that an advertisement would be posted Tuesday (see the formal job description, available for downloading at the side of this story) for chief operations officer, the administrator responsible for budget, finance, technology, human resources/personnel, food service, purchasing and other tasks.
"We need somebody who — what's the right word? — has the capacity to keep many balls in the air at one time," Doll said, noting that the district's budget is in excess of $60 million, with 1,800 employees and nearly 11,000 students. "We are a huge business, and this person manages the business side of the operation."
The chief operations officer — now Frank Harwood, who has accepted the superintendent's job with the Bellevue school district in Nebraska — leads negotiations with the Lawrence Education Association regarding a new master agreement for teachers and other licensed personnel. The union already has asked the district for a $1,500 raise for each of its more than 900 licensed educators, a move that would be expected to cost the district nearly $1.4 million.
Doll said that Harwood would be expected to continue leading negotiations through the end of June. Doll's goal is to have Harwood's replacement hired by the middle of June.
•••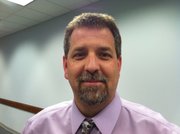 Speaking of money and budgets and salaries and negotiations...
When Harwood starts in July as superintendent of the Bellevue school district at the edge of Omaha, Neb., he'll be in line to receive a package of salary and other benefits expected to approach $250,000 a year.
That's the range that had been advertised with the job, which drew 37 written applicants and resulted in five finalists. Harwood ended up as the unanimous choice Saturday of the Bellevue school board, and now his contract is being negotiated.
Harwood has given the district his verbal approval to the general terms of the contract, but details are still being worked out, said Ed Rastovski, a consultant who handled the district's search.
In Lawrence, Harwood now earns a base salary of nearly $115,000, which rises to about $122,000 when including some benefits and other allowances.
Doll earns $153,000 a year as superintendent of the Lawrence district.
— The First Bell mailbox is always open. Please feel free to send any feedback or ideas to me at mfagan@ljworld.com.
Copyright 2018 The Lawrence Journal-World. All rights reserved. This material may not be published, broadcast, rewritten or redistributed. We strive to uphold our values for every story published.