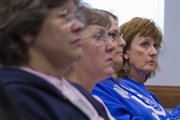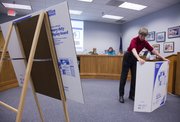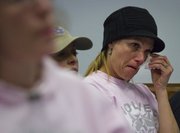 Wakarusa Valley School soon will celebrate its 50th birthday, but it won't be open for its 51st.
Monday night, members of the Lawrence school board voted to close the school southeast of Clinton Lake at the end of the current school year, a move projected to save the district nearly $500,000 annually and set in motion a long-term plan that would be expected to lead to more closures, consolidations and operational cost savings in the years ahead.
"It doesn't get any easier," said Scott Morgan, an outgoing board member who's now been part of closing five elementary schools during his eight years on the board. "But it's what grown-ups do when you're faced with this kind of budget issue."
More than 50 people attended Monday's meeting, which started with a formal public hearing before the board approved the closure on a 6-1 vote. Marlene Merrill, who is seeking re-election, opposed the closure, indicating that the district should keep Wakarusa Valley open and consider closing "several" schools instead.
Closing Wakarusa Valley was one of two major recommendations forwarded to the board by the Lawrence Elementary School Facility Vision Task Force, a 24-member group that met for eight months to come up with a long-term plan for the district's 15 elementary schools while being mindful of the district's declining financial resources.
The task force also calls for consolidating a list of six schools — Cordley, Hillcrest, Kennedy, New York, Pinckney and Sunset Hill — down to three or four within three to five years, with construction of new or expanded schools through a bond issue. Board members will be expected to chart a course next month for pursing a public process to make it happen.
"We may need to put it on a faster track," said Bob Byers, a board member.
The decision to close Wakarusa Valley did not include an opportunity to pursue consolidation. Instead, the task force — after also considering Cordley and Pinckney for closure — settled on the rural site at 1104 E. 1000 Road, opened in 1960 by its own school district and then voluntarily turned over to the Lawrence district a few years later.
Parents' concerns
Monday night, more than a dozen parents of Wakarusa Valley students tried to change board members' minds regarding closure, citing transportation challenges, air quality, academic performance, community cohesiveness, growth patterns and more. They also argued that it would be illogical to close a school that needs no major physical upgrades, provides plenty of room for expansion and educates kids who perform among the best in the district on standardized tests.
Peggy Roth, a Wakarusa Valley parent and wife of school board candidate Bill Roth, suggested that Wakarusa Valley should secede from the district.
The district should give the new district half of the tax money generated from the Wakarusa Valley area so that the school could remain open under its own leadership, she said. The district could keep the other half to cover the area's fair share of costs at the junior highs and high schools.
"We need a divorce," Roth said, having criticized the board for failing to consider closing Broken Arrow School or others instead. "This has been a hatchet job. We need a system that works for us."

Preliminary plans call for Wakarusa Valley students living south of the South Lawrence Trafficway and Kansas Highway 10 to attend Broken Arrow, while students living in the Easy Living Mobile Home Park would go to Sunflower School. Kids living in a residential area along the east side of Kasold Drive, from Clinton parkway to 31st Street, likely would be switched to Schwegler from Broken Arrow.
$3 million deficit
The decision came as board members began to grapple with an expected $3 million budget hole they must fill heading into the 2011-12 school year.
They learned Monday night that they likely could cover the lost revenue from the state by tapping contingency funds and making other changes.
Meanwhile, Sonja Hart will be making plans for her fourth-grade son, Garrett, to attend Broken Arrow.
"My son is very resilient," said Hart, president of the Wakarusa Valley PTO, after the meeting. "He will do fine."
Now she'll continue making plans for the school's 50th anniversary, to be conducted from 2 p.m. to 5 p.m. May 1. Everyone's invited. There will be cookies.
"We'll say goodbye," she said.
Copyright 2018 The Lawrence Journal-World. All rights reserved. This material may not be published, broadcast, rewritten or redistributed. We strive to uphold our values for every story published.