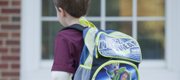 Subscribe to the email edition of First Bell and we'll deliver you the latest local education news and notes every weekday at noon.
A few notes and items regarding education in the area: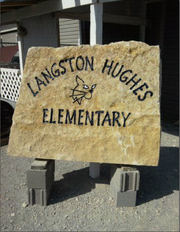 Langston Hughes School will be getting a new school sign for the new school year.
Earlier this month, the Lawrence school board agreed to accept a donation — a stone sign — from the school's PTO on behalf of this year's sixth-grade class.
The gift comes as the school and other elementaries in the district prepare to realign their enrollments so that they will be for grades K-5 for the coming year. Sixth-graders will be in middle school, and ninth-graders will be in high school.
And the remaining Bobcats? They will have a new sign.
•••
A partial listing of planned prizes to be given away through drawings at the upcoming Project Graduation party drew some interest from followers of this column last week, so I'm doing what any responsible journalist would do.
I'm revealing more items from the donations list.
Without further ado, I pass along a few more items tentatively* scheduled to be given to students attending the big party, set for the night of May 29 and the early morning of May 30 at Abe & Jake's Landing, Sixth and New Hampshire streets (items revealed last week are included in parentheses):
• The 11:30 p.m. raffle would include a digital camera (and a 32-inch Sharp flat-screen television).
• The 11:50 p.m. raffle would include a Sonicare toothbrush (and a new laptop computer).
• The 12:10 a.m. raffle would include a Flip camera (and a digital camera, an HP LaserJet 3050 Printer, and a Crest teeth-whitening kit).
• The 12:30 a.m. raffle would include an Apple iPad or iPod Touch (and a variety of gift certificates, for retailers including Best Buy, The Merc, Walmart and Weaver's).
• The 12:50 a.m. raffle would include one hour of Whirlyball in Shawnee (and a $500 scholarship from the Lawrence Journal-World).
• The 1:10 a.m. raffle would include two passes for 18 holes of golf with cart at Alvamar Country Club (and two passes to DropZone paintball park, and an Avon merchandise basket).
• The 1:30 a.m. raffle would include a gift certificate for sunglasses from The Spectacle (and a Kindle).
• The 1:50 a.m. raffle would include two passes to the Schlitterbahn water park (and another 32-inch Sharp flat-screen TV and a ukulele).
• The 2:10 a.m. raffle would include two passes to the Kansas City Zoo and a T-shirt from Kansas University's School of Engineering (and a cash prize, perhaps as much as $200).
• The 2:30 a.m. raffle would include the same two items revealed last week: a larger cash prize and — for the biggest prize of the night — a 1999 limited-edition Ford Explorer, courtesy of Laird Noller Ford.
(* Remember, this list is tentative because organizers are still receiving and purchasing and otherwise coordinating prizes and schedules and other matters.)
This much is settled: The party is open to graduating seniors from Bishop Seabury Academy, Free State High School, Lawrence High School and Veritas Christian School. Tickets are $10 and are on sale now.
For more information about Project Graduation, visit the organization's website at ProjectGraduationLawrence.org.
•••
School's almost out, but some local students will be using their knowledge during summer vacations in national competitions.
The National History Day contest, June 12-16 in Washington, D.C., is set to include first- and second-place finishers in the Kansas History Day contest.
First-place winners:
• The Terri Schiavo Case: The Right to Die-Debate and its Consequences, by Sadie Keller, of Central Junior High School.
• Naming Names: Elia Kazan and the Hollywood Blacklist, by Josie Naron, of Central.
• Bismark & Realpolitik, by Kelly Song and YuKung Lee, of Lawrence High School.
Second-place winners:
• Dropping the Bomb: A Moral Debate, by Ayesha Vishnani, of Central.
• The Second Red Scare, by Alyssa Crider and Lauren Fleming, of Lawrence High.
• The Great Crisis: The Cuban Missile Crisis of 1962, by Nick Cohen and Jim Kittel, of Lawrence High.
Stefan Petrovic, a seventh-grader at South Junior High School, will represent Kansas for the second time at the National Geographic Bee in Washington, D.C.
This year's event, the 23rd annual, is set for May 24-25.
Petrovic is one of eight returning students among the 54 students remaining in the nationwide competition, culled down from nearly 5 million participants. The top 10 finalists will compete in the May 25 final round, moderated by "Jeopardy!" host Alex Trebek, and taped for later airing on the National Geographic Channel.
The champion wins a $25,000 college scholarship, a trip to the Galapagos Islands, and a lifetime membership in the National Geographic Society.
— The First Bell mailbox is always open. Please feel free to send any feedback or ideas to me at mfagan@ljworld.com.
Copyright 2018 The Lawrence Journal-World. All rights reserved. This material may not be published, broadcast, rewritten or redistributed. We strive to uphold our values for every story published.