Photo Gallery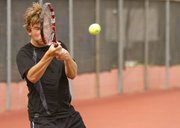 2011 boys 6A state tennis
Topeka — While Saturday at the state tennis tournament marked the end of a stellar run for Free State High's top doubles team, it was only the beginning for one of Lawrence High's best singles players.
FSHS seniors Patrick Carttar and Chris Helt fell in both of their matches at the Kossover Tennis Facility — 6-4, 6-0 to a tandem from Blue Valley West, and 9-1 to Hutchinson's top duo — but reflected fondly on their growth in recent years.
"Obviously we wish we could have done better, but last year we didn't even qualify for state," Carttar said. "But we did win regionals (as a team), and (Chris and I) finished second as a pair."
"That's my fondest memory," Helt said.
FSHS coach Oather Strawderman agreed and offered nothing but praise for Carttar and Helt, as well as his other senior doubles team, Luke Cortese and Jack Hearnen, who split their two matches Friday.
"Those four qualifying for state is just an awesome accomplishment," Strawderman said. "For us to be regional champions ... it was just a really strong year with a strong finish for those four seniors."
Lawrence High's lone competitor Thomas Irick, a freshman getting his first taste of the state tournament, bowed to Shawnee Mission West's Vinny Pham for the second straight day, this time 6-4, 6-2.
Irick then ended his day with a 9-3 setback against Blue Valley North's Adam Yungmeyer.
"It's definitely a different atmosphere," Irick said. "With the crowd here, you've got to be mentally prepared for them being against you. And you've got to pound the guy for having them on his side."
Though not exactly disappointed, Irick wasn't too thrilled with his finish, insisting he's eager to return and make a deeper run next year. LHS coach Chris Marshall suggested his youngster's best tennis is yet to come.
"Now he's experienced the highs and lows, so hopefully he can hang in there (next time), overcome those circumstances and turn them into victories," Marshall said.
Andrew Craig, the only Firebird to compete in singles, was also tripped up in both of his matches. He dropped his opening match, 6-1, 6-2, to O'Gorman-Bean from Shawnee Mission East, and then fell 9-3 to SM North's Keenan Smith, despite a late surge.
"It's closer than it appears on paper, but I didn't win those key points," Craig said.
It was Craig's third loss to Smith this season, which the junior hopes to remedy with plenty of hard work during the offseason. Craig said he plans to play at least four times per week in hopes of a stronger showing at state next year.
"That's something that he can look back on all year," Strawderman said. "(Smith is) going to keep getting better, so (Andrew's) got to keep working harder."
Copyright 2018 The Lawrence Journal-World. All rights reserved. This material may not be published, broadcast, rewritten or redistributed. We strive to uphold our values for every story published.