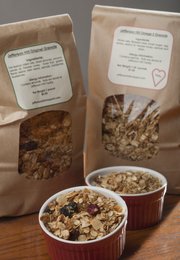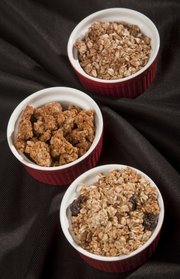 If Lawrence had an official "Breakfast of Champions" it might well be the treat with a thousand faces: granola.
Yes, Lawrence might actually be one of the best places in the state, and maybe the region, to get honest-to-God homemade granola. The kind of stuff that was baked freshly less than a day ago and won't crack your teeth after hardening during a long drive.
In a way, our local granola industry could almost be compared with Kansas City's barbecue scene. It's not as famous, naturally, but it is comparably diverse. For Kansas City barbecue aficionados, there's a little something for everyone — smoky barbecue sauce, tangy barbecue sauce, sweet barbecue sauce, hot barbecue sauce — the list goes on and on. It's similar in the granola world. For every crunch granola, there's a soft one. For every fruity one there's a nutty one. For every sweet one, there's a spiced one, and on and on.
Valerie Jennings, owner of Lenexa-based Hippie Chow, says eventually she'd like people to think of her product — which has Lawrence roots — when they think of the words "Kansas City" and "granola." But after sampling some of the competition, she's pretty sure there's enough flavor profiles to go around in the local granola community.
"That's kind of the way with granola, everybody kind of has their own idea of how granola should taste, how it should be from a texture standpoint," says Jennings, who says she found local granolas she'd never heard of only after starting to sell at The Merc, 901 S. Iowa. "Is it really chunky with lots of clumps or do you want a softer granola with a little bit of a looser texture?
"I definitely think there's room for all of the producers on the market. And that's kind of like the appeal of granola too — it has a very grass-roots, handmade, startup, 'hey let's make some granola, and we're going to make it how we like it' ... kind of the appeal."
Hippie Chow
Homebase: Lenexa
Lawrence connection: Hippie Chow started commercial production in the incubator kitchen at the Douglas County Fairgrounds and is now sold at The Merc, 901 S. Iowa and the Kansas Sampler, 921 Mass.
Signature: A sweet and sturdy granola, this one has small clusters of oats and is sweetened with brown sugar and honey.
Flavors: Original, peanut butter and chocolate.
For more information: Go to www.hippiechowgranola.com.
Jefferson Hill Vineyard
Homebase: McLouth
Lawrence connection: Owners Don and Maxine Bryant sell granola at the Thursday and Saturday Lawrence Farmers' Markets. The Bryants also will ship their granola to customers who request it and they serve it to their guests at the bed and breakfast at their winery.
Signature: A more cake-like granola, it is studded with an array of dried fruit and is made with Kansas honey and Kansas oats.
Flavors: Original, Heart-Healthy, Maple and a granola-like trail mix.
For more information: Email jhfarmandwinery@centurylink.net or call 913-796-6065.
The Local Buzz
Homebase: Olathe
Lawrence connection: Owner Shelley Flones set out to create a non-loose granola because, well, that's what she prefers. The result is a "granola bark" that utilizes both local honey and maple syrup from a friend's farm in upstate New York. She also uses local bacon from Steve's Meat Market in De Soto for her bacon flavor.
Signature: Its peanut-brittle-esque texture makes it extremely decadent despite healthy ingredients like dried fruit and seeds.
Flavors: Original, Hominess, Open Sesame and You're Bacon me Crazy.
For more information: Search for The Local Buzz on Facebook or email thelocalbuzzkc@gmail.com.
Hometown Granola Shop
Homebase: Oskaloosa
Lawrence connection: The Hometown Granola Shop got its start a few years ago at the Lawrence Farmers' Market, says owner Ida Miller. Now it's sold at The Merc, both Lawrence Hy-Vees and Auntie Em's Deli, 2311 Wakarusa Drive.
Signature: A crunchy, chunky granola, rolled oats play the star with nuts and seeds as the supporting cast rather than fruit.
Flavors: Morning Delight (original), Peanut Butter Crunch and Sun Snack.
For more information: Call Hometown Granola Shop at 785-863-3596.
Bread of Life
Homebase: Stewartsville, Mo.
Lawrence connection: Bread of Life sells not only it's granola at The Merc, but also breads and other goods too.
Signature: As an organic bakery, Bread of Life's granola's predictably are made with organic oats and flax seed. Other ingredients sure to turn heads? Evaporated cane juice instead and molasses instead of brown sugar or maple syrup. Also of note: there are no added fats or oils.
Flavors: Blueberry, Cherry-Nut, Cranberry Walnut, Currant, Flax, Flax Nuts, Maple Nut.
For more information: Go to www.breadoflifebakery.net.
Great Harvest Bread Co.
Homebase: Montana
Lawrence connection: The franchise has a store at 807 Vt.
Signature: A basic cinnamon granola, it's got a loose oat base, studded with sliced almonds and sunflower seeds.
Flavors: Original, Raisin.
For more information: Call Great Harvest at 749-2227.
The Merc
Homebase: Lawrence
Lawrence connection: The Merc has been in Lawrence since 1974, and makes several in-house baked goods, including granola.
Signature: A brown sugar-sweetened granola bolstered by cream and dry milk, it has a loose oat base mixed with sliced almonds.
Flavors: Old-Fashioned.
For more information: Visit The Merc at 901 S. Iowa.
Copyright 2018 The Lawrence Journal-World. All rights reserved. This material may not be published, broadcast, rewritten or redistributed. We strive to uphold our values for every story published.