Photo Gallery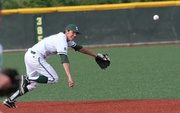 Free State baseball vs. LHS
Seemingly every time Cody Kukuk takes the mound, he dazzles the array of scouts lined up behind the backstop, baffles opposing hitters and helps guide Free State High's baseball team to a victory.
And all indications are, this is only the beginning for the Firebirds' senior lefty.
Kukuk struck out 11, and Free State collected 11 hits in a 12-1 thumping of Lawrence High in five innings on a gorgeous Monday evening at FSHS.
"He can be better," FSHS coach Mike Hill said. "I don't want to sound displeased, because that's not the case, but he can be better than he was today, and I still think we're going to see that."
Hill was referring to Kukuk's five walks and handful of wild pitches, one of which allowed the Lions to score their only run, but aside from that, Kukuk was good as can be as he shut down the Lions.
His curveball and slider were sharp, but his fastball — which was clocked as high as 94 mph — was his primary out pitch and continually crashed into catcher Lee McMahon's mitt after an LHS whiff.
"I felt like I had good stuff, maybe not my best, but we just kept working and kept at what we do," said Kukuk, who recorded swinging strikes on 35 of his 93 pitches.

Whether Kukuk was at his best provided little solace to the Lions (11-8), who fell behind 3-0 in the first inning after Kukuk struck out the side on nine swings-and-misses.
"You can't give someone like Cody Kukuk one run, let alone three, let alone 12," LHS coach Brad Stoll said. "He's an amazing player, and to give him that three-spot certainly set the tone."
For LHS designated hitter Matt Sutliffe, one of two Lions to single, there was plenty of frustration after the latest setback in what he described as a quiet few weeks for the Lions' offense.
"We've still got to hit him," Sutliffe said. "We're going to see guys throwing 90 at regionals. I don't care who it is. We've got one of the best offenses in the state. We've got to swing the bat like we can."
Trent Sheppard tallied Lawrence's only other hit, a leadoff single to center in the fifth, and scored on a wild pitch.
The Firebirds (14-5) — who celebrated Senior Night for Kukuk, Campbell Fritzel, Tim Lewis, Dylan Perry, Collin Phillips, Preston Schenck, Colin Toalson and Justin Walthall — showed plenty of pop of their own.
FSHS scored in every inning and chased LHS starter Garrett Cleavinger in the fourth, when they broke the game open with six runs to enact the run rule.
Montana Samuels went 2-for-2 and was hit by a pitch and drove in four runs for FSHS, two on a single in the first and two on a double to the fence in the fourth.
Kukuk also went 2-for-2 with a walk and scored twice, and Joe Dineen scored three runs and smacked two hits, including a two-RBI single in the fourth.
LHS and FSHS will clash again at 7 p.m. Thursday, this time at Kansas University's Hoglund Ballpark.
"They will be a much different team, I can assure you of that," Hill said. "We just need to make sure we're not a much different team, because if we are, we're going to get beat like they did tonight."
Stoll suggested the Lions would come out Thursday with a sizeable chip on their shoulders, and Sutliffe agreed.
"We'll come ready to play," Sutliffe said. "This won't happen again."
Copyright 2018 The Lawrence Journal-World. All rights reserved. This material may not be published, broadcast, rewritten or redistributed. We strive to uphold our values for every story published.