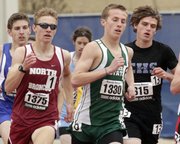 The Free State High library was decked out in purple to celebrate senior Preston Newsome, who signed his national letter of intent to run track at Texas Christian University on Monday afternoon.
In addition to the balloons and a couple of TCU T-shirts were a few platters stacked with purple-iced cupcakes, which many of his friends and supporters were enjoying after Newsome inked his letter and posed for a few photos.
Newsome, on the other hand, wasn't reaching for any baked goods.
"I have a big workout after this, so I don't want to be throwing up," said Newsome, who will begin running cross country for TCU in the fall as an invited walk-on.
Newsome admitted he might eat one later on, but offered a few healthier alternatives suitable for a pre-practice snack.
"Some celery, some apples, some bananas," Newsome said with a laugh. "We'd probably have a bunch left over, though."
Levity aside, Newsome's decision to pass up a cupcake was far easier than choosing where to attend college.
Newsome, also a standout on the soccer field, was leaning toward attending TCU after his first visit there last summer, but was recently presented with an offer to play soccer at Div. I Belmont University.
He ultimately had to decide by the May 1 deadline, and based more on academics than anything else, he chose to be a Horned Frog.
"I still love soccer as much as I love track," Newsome said. "The fact that I'm in track season right now, I'm more focused on track, and I think that might have made me see it in that light."
After running track a bit in junior high, Newsome began getting serious about the sport during his sophomore season.
His raw ability and athleticism impressed coach Steve Heffernan, who said he shared with Newsome that if he felt like focusing on track, he could do some special things.
Newsome, a distance specialist with a mile time in the mid-four-minute range, sure has done some nice things for the FSHS team at this point, though his high school career isn't over yet.
He and his Firebird teammates are gunning for a strong showing at the Sunflower League championships — which start at 3 p.m. Friday at Shawnee Mission North — and the state championships down the road.
"The top end for him is going to be really high," Heffernan said.
Copyright 2018 The Lawrence Journal-World. All rights reserved. This material may not be published, broadcast, rewritten or redistributed. We strive to uphold our values for every story published.