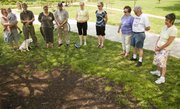 After standing in silence for five minutes with about a dozen other people in South Park Sunday, Lawrence resident Karl Schorno was in a reflective, man-of-few-words mood.
When asked why he participated in the action designed to raise awareness for children's rights, Schorno had a simple answer.
"My wife," he said.
His wife, Karen, a member of One Hundred Good Women, a local philanthropic organization that organized the Mother's Day event, was all smiles.
"He did it for Mother's Day for me," she said.
At exactly 1 p.m. Sunday, the Schornos and others stood in a circle and recited a statement promoting protection for all children, which included issues such as access to clean water, education and housing. Across the United States and in 75 countries around the world, other groups were reciting the same statement in a collective action of solidarity.
One Hundred Good Women has organized the event locally, known internationally as "Standing Women," since 2007. Kris Barlow, a board member of One Hundred Good Women, said the annual event helps her "honor the children."
"It's a special thing," she said.
Copyright 2018 The Lawrence Journal-World. All rights reserved. This material may not be published, broadcast, rewritten or redistributed. We strive to uphold our values for every story published.