Photo Gallery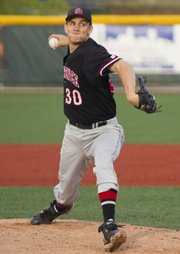 LHS baseball vs. Leavenworth
With the bases loaded and two outs in the seventh inning of a tie game against Leavenworth, Lawrence High junior catcher Jake Vinoverski was a little nervous at the plate.
To help Vinoverski relax during a pitching change, coach Brad Stoll walked down from the third-base coaching box and told him a joke.
"He didn't like that," Stoll said.
The Lions certainly liked what happened next.
Vinoverski kept his bat on his shoulder as the full-count pitch from Leavenworth's Judson Cole bounced in the dirt, bringing senior Ross Johnson home from third and propelling the Lions to a 3-2 victory at LHS.
"It felt like a 50-pound weight got lifted off my shoulders there," Vinoverski said.
The victory clinched the Sunflower League title for Lawrence High, but Stoll didn't even realize it until he thought about the standings and games remaining.
The Pioneers didn't make it easy for the Lions, plating a run and stranding three runners on base in the first inning.
The Lions (11-7, 9-1 Sunflower League) scored runs in the second and third innings to take a 2-1 lead, but the Pioneers scored the tying run in the fifth inning on a sacrifice fly to right field with the bases loaded.
LHS senior pitcher Alex Laughlin worked out of three bases-loaded situations in the game and gave up just two runs.
"He's the kind of guy you want on the mound in a game like that, when you need strikeouts or you need an out," Stoll said said. "I can't say enough about Alex Laughlin. He's an absolute battler."
Stoll said his team will take the ugly win after playing three home games in three days.
"That was kind of one of those wins where you feel a little dirty walking out of here," Stoll said.
Thursday's game was originally meant to be played at Leavenworth, but the school's field wasn't in game condition.
The game was moved to LHS, but the Pioneers remained the home team, batting in the bottom of each inning. The Lions also wore their black road jerseys.
Next up for the Lions is a City Showdown matchup at 5:30 p.m. on Monday at Free State. Three days later, the Lions play host to the Firebirds at Kansas University's Hoglund Ballpark.
"We're looking to win the big kahuna," Vinoverski said. "We're looking to win state."
Copyright 2018 The Lawrence Journal-World. All rights reserved. This material may not be published, broadcast, rewritten or redistributed. We strive to uphold our values for every story published.