BBQ cookoff Saturday schedule
7 a.m. — All-you-can-eat pancake breakfast as the Wakarusa Fire Department
11 a.m. — People's Choice rounds begin ($6 per round gets you 20 samples while the food lasts)
12 p.m. — Official competition judging begins
2:30 p.m. — Awards ceremony begins including presentation of ribbons and cash prizes.
For a more detailed schedule of Saturday's events, click here.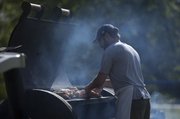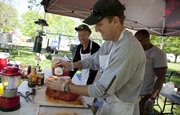 Past Event
When: Saturday, May 7, 2011, 7 a.m.
Where: Wakarusa Township Hall (E Wakarusa), 300 W 31st St, Lawrence
-->
-->
Past Event
When: Saturday, May 7, 2011, 11 a.m.
Where: Broken Arrow Park, 29th and Louisiana streets, Lawrence
-->
-->
On the street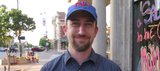 Not very often.
The smells of impending summer wafted over Broken Arrow Park at 31st and Louisiana streets on Friday as some of the Midwest's best grill masters fired up their smokers in preparation for the Lawrence Sertoma 48 BBQ Cookoff.
The 13th annual event, sponsored by Lawrence Sertoma Club, pits 48 teams of barbecue professionals and amateurs against one another in a battle for the title of grand champion. Dee Bisel, publicity chair for the sponsoring organization, said she was ready for the festivities but knew full well it'd be a hectic few hours.
"We're working so hard all day that we rarely get the chance to eat," she said, chuckling.
Bisel will most likely be in the minority from 11 a.m. until 2 p.m. today, when the event opens to the public and barbecue chicken, pork, ribs and brisket are made available to the masses. Amid the cooking and consuming will also be judging, both by local residents and officials from the Kansas City Barbeque Society.
While the judging and prize money might be serious motivation for some, others simply enjoy the experience. Jeremiah Donnelly of Lawrence has competed in the competition for three years and admits his team's results have not been stellar.
"We don't plan on ever winning or even finishing top 10," Donnelly said. "We just come here to have a good time."
Other teams do expect to finish near the top. Chris Crockett and Rick Bull comprise team Crock and Bull and already have a grand champion title. They'll compete in the local event for the first time today.
"It's expensive and completely labor intensive," Crockett said of barbecue competitions. "But it is fun."
All proceeds collected from the event will benefit local organizations.
Copyright 2018 The Lawrence Journal-World. All rights reserved. This material may not be published, broadcast, rewritten or redistributed. We strive to uphold our values for every story published.