Photo Gallery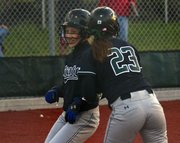 Free State softball vs. Shawnee Mission North
As it turned out, a 45-minute lightning delay was the best thing that could have happened to Free State High's softball team.
The Firebirds came out of the locker room a different team, capitalized on a plethora of Shawnee Mission North mistakes, and walked off with a sloppy 7-6 victory on a cold, rainy Thursday night at FSHS.
With the game tied 6-6 in the bottom of the seventh, Remington Samuels struck out on a wild pitch for what appeared to be the third out.
Extra innings, right? Wrong.
The SM North catcher, needing to either tag Samuels or make an accurate throw to first, fired high and wide down the line — the Indians' ninth error of the game — allowing Katy Davis to scamper home from first and score the winning run.
"Sometimes you have to win ugly," FSHS coach Lee Ice said. "And we've been on the other side of that. You just need to be able to take advantage."
The Firebirds (8-9), who celebrated senior night for Ali Arnold, Paige Rothwell and Christy Wagner, capitalized on mistakes, but they also were rejuvenated following the lengthy weather delay, when they trailed, 6-3.
Pitcher Mary Ann Smith and catcher Courtney Parker got on the same page once the game resumed in the fourth inning, and only relented one hit over the final three innings while striking out four — three coming on a baffling changeup.

Davis, who led off the fourth with a single, scored on an error to cut the lead to 6-4.
To lead off the fifth, junior Samantha O'Brien blasted a 3-2 pitch over the left field fence to make it 6-5.
"I felt it right off the bat," O'Brien said with a smile. "It was great."
Later in the fifth, Whitney Rothwell reached and scored on an error after hits by Davis and A'Liyah Rogers.
The Firebirds scored their first four runs off of SM North errors.
FSHS will play at Shawnee Mission Northwest in a makeup doubleheader at 10 a.m. on Saturday.
Copyright 2017 The Lawrence Journal-World. All rights reserved. This material may not be published, broadcast, rewritten or redistributed. We strive to uphold our values for every story published.