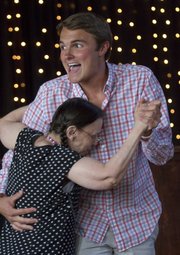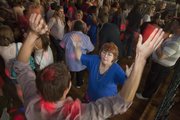 When Cole Brown walked into Abe and Jake's Landing on Wednesday for the Natural Ties annual prom, he was ready to mingle and bust a move.
"Yeah," Brown said about getting on the dance floor. "I like being active."
He wasn't alone Wednesday, as more than 100 Kansas University students and participants with the Natural Ties program grubbed and grooved during the year's final event.
The KU program, which pairs students with area residents who have physical or mental disabilities, called ties, has been a mainstay in Lawrence since its founding in 1988. Weekly events and activities highlight the program's work each semester.
Brown, who's been participating in Natural Ties events for years, said he enjoyed the social nature of the program, for which he is an honorary member of the executive board.
"It's all about being there and giving back," Brown said. "It's just hanging out with people, socializing and having fun."
KU senior Mary Tunakan has been working with Natural Ties for four years and said the connections she's made are what make the program special.
"It's the ties," she said. "They give you a perspective on life you never would have imagined."
And as the evening's hour-long festivities wore on, there were few who didn't find their way onto the dance floor. Students and ties alike were smiling, moving and conversing while music played under the lights and disco ball.
KU junior Tyler Setter, coordinator for the Natural Ties program, said seeing the ties enjoy themselves was a big part of why he got involved and plans to stay involved.
"I feel like all the volunteers just love it," Setter said. "When they get really excited it makes it worth doing all the work we do. I'd say that's the best part."
Copyright 2018 The Lawrence Journal-World. All rights reserved. This material may not be published, broadcast, rewritten or redistributed. We strive to uphold our values for every story published.