Photo Gallery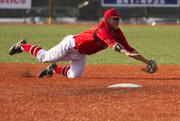 Lawrence High baseball vs. SM Northwest
For the Lawrence High baseball team, Wednesday was one of those days where a rainout might have been welcomed.
For the second time this week, the Lions were dealt a tough home loss — in the most recent case, 5-3 to Shawnee Mission Northwest — in which a lack of intensity was to blame.
"We had great BP, a great in-and-out, and then, somewhere between that and the first pitch, we just had an energy zap," LHS coach Brad Stoll said. "And I don't know why."
The zap led to zip for the Lions, who managed just six hits and three runs in their second loss in two days.
The good thing about Wednesday's loss was that it came during a make-up game from the River City Festival and, therefore, did not count on the Lions' Sunflower League record. LHS still owns an 8-1 league record and remains alive to win a league title.
But what really stung was that the loss came because the Lions were unable to play their game.
Through the first 15 games of the season, LHS stole 49 bases. The Lions have managed just one stolen base in the last two games, and that came Wednesday on an odd swipe by senior Ross Johnson, who took second on a heads-up play when SMNW starter Marcus McNeace was digging a ditch on the mound with his foot and unaware of his surroundings.
Although LHS fell to 10-7 overall, there were a handful of good moments during Wednesday's setback.
Designated hitter Matt Sutliffe continued to tear the cover off the ball, going 3-for-3 with a double and an RBI.
Aaron Gile also had a big game, giving the Lions a huge lift in the bottom of the fourth with a two-run home run to left field that scored Sutliffe.
Gile's moon shot cut the SMNW lead to 3-2 and momentarily pulled the Lions out of their funk.
"Even though we were still down one, it felt like we were up," Stoll said.
The good vibes were short-lived. Northwest first baseman Derek Olson led off the top of the fifth with a solo home run off of Cameron Solko to put the Cougars back in front by two runs. SMNW added an insurance run in the top of the seventh inning, when a pitch from Solko skipped past catcher Jake Vinoverski, allowing Matt Milner to race home with Northwest's fifth run.
The Lions were in good position to stage a rally in their final at-bat, but McNeace sat down the top three hitters in Lawrence's order on five pitches, leaving Sutliffe on deck as the final out was recorded.
"That's a situation where you just hope someone gets on in front of him because (Sutliffe) has a chance to hit the ball onto Louisiana Street," Stoll said.
It never happened, and the Lions were left to ponder what went wrong for the second day in a row. Gile, a senior, offered a pretty sound explanation.
"We just weren't executing at the plate," he said. "I think (pressing) had a little bit to do with it. People are kind of looking ahead to our two big games next week (Monday and Thursday vs. Free State), and we can't do that."
The Lions return to the diamond at 5:30 today, when they play host to Leavenworth.
Copyright 2018 The Lawrence Journal-World. All rights reserved. This material may not be published, broadcast, rewritten or redistributed. We strive to uphold our values for every story published.