Photo Gallery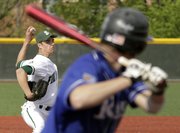 Free State baseball vs. Rockhurst
Things seemingly couldn't get any worse for Free State High's baseball team following a rough first inning.
Only they did. And much worse, at that.
The Firebirds never bounced back and were routed, 16-6, in six innings by Kansas City (Mo.) Rockhurst on Wednesday evening at FSHS.
A combination of FSHS errors, passed balls and wild pitches only aided the Hawklets, who pounded 16 hits and put their leadoff man on in every inning.
"We are absolutely shooting ourselves in the foot at every opportunity," FSHS coach Mike Hill said.
The Firebirds (12-5) committed four errors in the 25-minute first inning, allowing the Hawklets to jump ahead 5-0 and send 11 batters to the plate despite only tallying three hits.
Rockhurst, led by three-hit games from Pete Sorrentino and Henry Weiler, tacked on two run in the second inning and three more in the fourth before exploding for six runs in the sixth.
The Firebirds were able to chip away for two runs in the third on an error and a sacrifice fly from J.D. Prochaska, but never strung together solid at-bats and left 10 runners on base.
"When things don't go well, I think guys feel like they've got to throw 110 miles an hour or hit five-run home runs," Hill said.
Cody Kukuk went 2-for-2 with a walk and two runs scored, and Joe Dineen collected two hits and drove in a run for the Firebirds, who rallied for three runs in the fifth.
Hill said the Firebirds are going through a tough stretch, which is only made worse by how short the season is.
"You get 162 games in the major leagues to work things out, but only 20 in the high school season," Hill said. "It's discouraging. I'm disappointed in the way we're playing, but I believe in our kids. Hopefully we'll find a way to right the ship."
FSHS will play at Shawnee Mission North at 4:30 tonight.
Copyright 2018 The Lawrence Journal-World. All rights reserved. This material may not be published, broadcast, rewritten or redistributed. We strive to uphold our values for every story published.