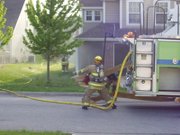 A kitchen fire Wednesday evening that caused $76,000 in damage to a two-story duplex in northwest Lawrence has displaced a family living there, fire officials said Thursday morning.
The fire at 411 John Doy Court, which is off Peterson Road, was accidental and caused by inattentive cooking, said Eve Tolefree, Lawrence Douglas County Fire and Medical division chief.
Takisha Clark spent most of Thursday trying to arrange for housing and figure out how to replace several household items after nearly everything in her kitchen was damaged.
"That stuff can be replaced," Clark said. "We're thankful because we made it out safely."
Quail Run School staff members put out a call to parents Thursday morning to help Clark's family with donations. Her three sons are in the sixth, third and first grades at Quail Run. An account for donations at U.S. Bank branches in Lawrence is set up in Takisha Clark's name.
Firefighters were called to the townhouse at 6:42 p.m. Everyone inside had made it out of the duplex, and crews had the fire under control at 7:07 p.m., Tolefree said. No one was injured.
Jane Blocher, executive director of the Douglas County chapter of the American Red Cross, said the agency provided temporary lodging through Saturday for Clark's family and gave the family a cash allowance for food and clothing.

Clark said Thursday the family was still trying to determine how many of the items that were damaged by smoke, such as their clothing, could be salvaged. She said they had some offers for housing beyond the hotel room provided by the Red Cross through Saturday.
The fire was not expected to displace a resident of the other unit in the duplex, Blocher said. According to Douglas County records, the duplex is valued at $132,000.
Copyright 2018 The Lawrence Journal-World. All rights reserved. This material may not be published, broadcast, rewritten or redistributed. We strive to uphold our values for every story published.