Photo Gallery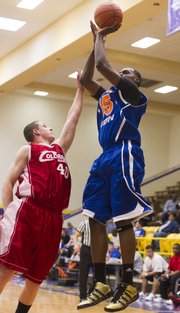 2011 Jayhawk Invitational title game
Shabazz Muhammad, the No. 3-ranked basketball player in the recruiting Class of 2012, and Chris Thomas, the No. 4 prospect in the Class of 2013, lived up to the hype in Sunday's finals of the Jayhawk Invitational at Haskell's Coffin Complex.
Muhammad, a 6-foot-5, 210-pound junior from Las Vegas' Bishop Gorman High, exploded for 36 points in Dream Vision's 94-85 title victory over the Colorado Hawks and super 6-4, 180-pound Phoenix Westwind Prep Academy sophomore Thomas, who netted 35.
"Chris is outstanding. It was my first time playing against him. I was really impressed," said Muhammad, who was named MVP of the Invitational. "If he keeps it up, he'll be playing at the highest level."
Both players have Kansas University on their list of prospective colleges.
"Shabazz is amazing. I'll give him that. He is good," said Thomas, who made the all-tournament team. "He came out not missing a shot in the first half. The second half, he finally missed some shots."
Muhammad scored 21 points the first half in helping Dream Vision to a 50-36 advantage. Thomas erupted for 25 points the final half in leading a furious rally that knotted the score at 79 with about six minutes left.
Muhammad broke the tie with a vicious slam dunk, and Dream Vision managed to stay in front the rest of the way.
"I think I showed it a lot," Muhammad said, asked if he demonstrated the ability to dominate in crunch time. Earlier he had 32 points in a 76-69 quarterfinal win over SYF Players. "Just playing, getting my teammates involved. Getting this championship is just sweet."
Thomas had a crowd of about 200 fans buzzing while connecting on four straight threes during the Hawks' second-half comeback.
"Man, I thought I was going to knock one down to end the game like that," Thomas said. "It happens. We lost. It's OK."
Joe Rahon, a sweet-shooting 6-foot junior from San Diego's Torrey Pines, who according to Rivals.com has received an offer from Boston College, scored 21 points, including a three off a feed from Muhammad that gave Dream Vision an 84-80 lead.
As far as the three other Dream Vision players who are considering KU ...
• Robert Upshaw, a 6-10 junior from Edison High in Fresno, Calif., scored 11 points.
• Winston Shepard, 6-8 junior from Findlay Prep High in Henderson, Nev., had nine points.
• Ishmail Wainright, 6-5 sophomore from Raytown (Mo.) South, had four points.
Upshaw, who is ranked No. 111 in the Class of 2012, made the all-tournament team. He had 14 blocks in Saturday's victory over the Kansas Mustangs.
"If I become a more mobile player, I become one of the best players in the country," the 250-pound Upshaw said. "I can't get up and down the floor as well as other players can, so that's what I'm trying to focus on. When I get up and down the floor, I rebound well, block shots well and score well."
He said he's committed to "running on the track with my strength and conditioning coach at my high school and just playing ball."
Upshaw — he said he has heard from coaches from KU, Maryland, Oregon and Tennessee lately — said his goal is to resemble NBA standout Dwight Howard.
"I want to be the type player where I get the ball in the post and storm through a guy," Upshaw said. I don't necessarily say I can be athletic as him. I just want to be that type of player."
Regarding the recruitment of Sunday's star performers, Muhammad, who is being pursued by KU, Duke, North Carolina, Kentucky, Texas, UCLA, UNLV, Arizona, USC and many others, said he'd definitely like to make a visit to KU.
Thomas said though it's early in the process, KU will be high on his list. He's been offered a scholarship by the KU staff.
"All my family is from Kansas. Kansas is good for me. I like Kansas," said Thomas, who also has mentioned Arizona, Kentucky, Memphis, Indiana, Tennessee, Washington, Oregon State, Washington State, Missouri and Colorado.
All-tourney talk
Joining Muhammad, Thomas and Upshaw on the all tourney team were: Marcus Smart, 6-4 junior, Texas Assault; Mitch McGary, 6-10 junior, SYF Players; and Marcus Holt, 6-9 junior, Colorado Hawks.
Lacey says he'll reschedule
Trevor Lacey, a 6-3 senior guard from Butler High in Huntsville, Ala., who did not make his official visit to KU over the weekend as originally planned, will visit before the May 18 end of the spring signing period, Lacey's dad told Rivals.com on Sunday. The country's No. 24 rated player is considering KU, Kentucky, Alabama and Auburn.
Koenig nets KU offer
One of the top players in the 16-and-under portion of the invitational was Bronson Koenig, 6-2 soph point guard from Aquinas High in LaCrosse, Wis. Koenig, who starred for Wisconsin Playground Warriors, has been offered a scholarship at KU, his AAU coach told Rivals.com.
Other title games
16 and under: Dream Vision 58, Wisconsin Playground Warriors 38.
15 and under: KC Pump N Run 69, Iowa Barnstormers 68
14 and under: KC Tarheels 57, Gateway Basketball Club 36
13 and under: Oklahoma Magic 61, Gateway Basketball Club 41
12 and under: Powergroup 55, Arkansas Blazers, 55-28
Copyright 2018 The Lawrence Journal-World. All rights reserved. This material may not be published, broadcast, rewritten or redistributed. We strive to uphold our values for every story published.