A few education-oriented items from around the area and beyond: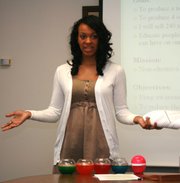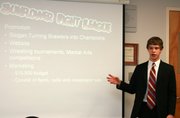 Smells like Taylor Eubanks may be onto something.
Eubanks — the brains behind Fresh Globe Air Freshener, a prospective producer of organic air fresheners — is among 21 budding entrepreneurs from Lawrence High School who presented their detailed plans Wednesday to business students at Kansas University.
The competition is the latest product from a collaboration between KU students taking entrepreneurship courses and LHS students who are participating in the Young Entrepreneurs of Kansas program. The KU students have served as mentors throughout the spring semester and also helped judge Wednesday's competition.
The program is managed by the LHS students' instructor, Jason Crawford, and Jana Fitchett of KU's School of Business.
Among the formal business plans pitched Wednesday:
• Sunflower Fight League, an entity that would play host to Mixed Martial Arts (MMA) matches across Kansas, by Jacob Von Feldt.
• The Breakroom, a video game arcade and eatery by Andrew Denny.
• Trae's Treats, an ice cream delivery service, by Trae Green.
• Wash and Wheels, a mobile pet-washing service, by Marshal Bonham.
Students were judged on eight factors:
Mission statement
Market analysis
Market strategy
Financial development
Financial analysis
Presentation skills
Ability to answer questions
Viability
The winner is expected to be announced Monday.
•••
More than 300 students from the Lawrence school district and other areas schools plan to show up in a classroom Saturday afternoon for a self-assigned math test.
The students will be taking a five-question, 40-minute test at Kansas University, as part of an annual Math Department competition in conjunction with Mathematics Awareness Month.
The idea that young students actually would sign up for a voluntary exam shouldn't come as a surprise, said Kerrie Brecheisen, who's been compiling online registrations.
"These kids love their math tests," she said.
And there's still a chance to add your name to the list, if you haven't already: Walk-up registrations begin at 2 p.m. Saturday on the fourth floor of Snow Hall. Testing begins at 2:30 p.m.
There are four levels of competition, with prizes to be awarded in each category:
• Third and fourth grades.
• Fifth and sixth grades.
• Junior high.
• High school.
Faculty will grade each test, and winners will be announced later in the month.
Also planned as part of the department's celebration of Math Awareness Month: Sixth-graders from Schwegler School will observe on-campus demonstrations April 6 of how math is used in their everyday lives. Sixth-graders from Hillcrest School will visit the department for demonstrations April 13.
For more information about the events, visit the department's website or call Brecheisen at 864-3651.
•••
Seven students who attend schools in Lawrence will be competing this weekend in the state-level competition for the National Geography Bee.
In case you're wondering where, it'll be at the Dwight D. Eisenhower Presidential Library and Museum, in Abilene. Preliminaries begin at 1:25 p.m., with the final round set for 3 p.m.
Among the state's 100 competitors will be these who attend schools in Lawrence:
• Riley Costlow, seventh grade, Lawrence Virtual School.
• Solomon Cottrell, eighth grade, Central Junior High School.
• Jackson Hoy, fifth grade, Langston Hughes School.
• Stefan Petrovic, seventh grade, South Junior High School.
• Aidan Pierce, fourth grade, Broken Arrow School.
• Everett Waechter, fourth grade, Hillcrest School.
• Evan Williams, eighth grade, Southwest Junior High School.
The state winner gets $100 and goes on to compete in the national competition, set for May 24-25 at the headquarters for the National Geographic Society in Washington, D.C.
The society provided a few questions (and answers, thankfully) that have appeared in previous competitions:
• In which state is the capital city not the state's most populous city: Arizona, Massachusetts, or Maryland? (Answer: Maryland)
• The Baikal-Amur Mainline, with close to 2,000 miles of track, is a railway that takes its name from a lake and a river in the eastern part of what country? (Answer: Russia)
• One of Tacoma, Washington's, sister cities is George. This city is located along the scenic coastline of the Western Cape province in which African country? (Answer: South Africa)
For more information — and more questions — you can visit the competition's website.
Copyright 2017 The Lawrence Journal-World. All rights reserved. This material may not be published, broadcast, rewritten or redistributed. We strive to uphold our values for every story published.