Photo Gallery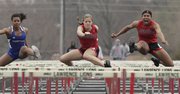 Lawrence High invitational track meet
For Free State junior Kain Anderson, running the anchor in the 4x400-meter relay just minutes after winning the 3,200-meter race isn't that strange.
After all, he did the demanding double in almost every meet last year.
"It's definitely a mental thing," Anderson said.
Anderson's first-place finishes in the 800 and 3,200 and as anchor for the 4x800 relay helped the Firebirds boys track and field team take first place at Wednesday's Lawrence Triangular at LHS.
The Firebird boys finished with 74 points, finishing ahead of Lawrence High (66 points) and Leavenworth (49). The Leavenworth girls won their side of the triangular with 74 points, barely topping Free State with 72.
Lawrence High's girls team finished third with 36 points.
Free State coach Steve Heffernan said he knew that his team had a lot of talent, but he didn't expect such stellar results.
"For a first meet, we're way ahead of where we were a year ago," Heffernan said.
Heffernan said that applies to Anderson, too.
"From here on out, I think he's going to run fantastic times," Heffernan said. "He's a great competitor and he works very hard, so it's going to be very fun for him."
It wasn't just Anderson having the fun.
Four Firebirds set school records. Senior Austin Hoag now holds the school record in the high jump. Freshman Alexa Harmon-Thomas set records in the 100 meter hurdles, 300 meter hurdles and the long jump.
Heffernan said he was proud of how Harmon-Thomas responded to a challenge in the 300 hurdles from LHS senior Tamiya Green. Harmon-Thomas trailed midway through the race before storming back.
"She's going to be one of the top athletes in the state," Heffernan said. "How she handles that will be fun to watch."
Lawrence High coach Jack Hood had to run some of the throwing events, but that gave him the opportunity to watch one of his most talented athletes — junior Blake Hocking.
In the shot put, Hocking threw 59 feet, 6 inches, his personal record. It is also just over a foot shy of the school record set by Olympian Bill Nieder 59 years ago.
Nieder was the first high schooler to put the 12-pound shot over sixty feet.
Hocking said that breaking the record of 60 feet, 9 and 3⁄4 inches is his big goal right now.
"It'd be an honor," Hocking said. "The guy was a gold medalist."
During the summer, Hocking lived in the weight room and gymnasium, constantly working on his strength and technique. He now can bench 385 pounds — the unofficial school record.
"He's reaping what he's sowed," Hood said. "He's seeing the benefits of all his hard work and it's coming together."
Hocking said that if he is able to shake off the rustiness in the next couple meets, he might be able to come close to the record. Improving his footwork is key.
"There's a rhythm to it like a dancer," Hocking said. "You try to look like a ballerina — a big guy ballerina."
The triangular was the first meet at the new Lawrence High stadium. Hood remembered when fans had to sit on a hill surrounding the track to watch any home meets.
At least a couple hundred people filled the seats on Wednesday.
"It shows me that if you give them seats, they'll come," Hood said. "When you have a hill, they don't come."
The Lions compete next at the Topeka Relays on April 8. The Firebirds compete Friday at the Emporia Relays.
Copyright 2018 The Lawrence Journal-World. All rights reserved. This material may not be published, broadcast, rewritten or redistributed. We strive to uphold our values for every story published.