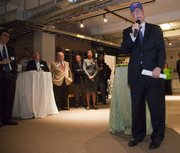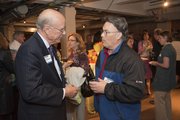 U.S. Sen. Pat Roberts on Wednesday afternoon in Lawrence criticized President Barack Obama for not being more specific about U.S. goals in Libya days after the start of a international campaign to enforce a no-fly zone amid unrest there.
"It's U.S. policy to have (Col. Moammar) Gadhafi step down, but we have no military contingencies to achieve that other than a protracted civil war, a blood bath?" said Roberts, R-Kan. "It doesn't make sense."
Roberts had just spoken to dozens of people during a Lawrence Chamber of Commerce Business After Hours event at the Journal-World's News Center, 645 N.H.
The state's senior senator said he believed Secretary of State Hillary Clinton likely knew more than Obama did about the situation and "evidently she called the shots on this."
"I just would like to have a speech with a great deal of specifics and clarification on what our policy is from the president," Roberts said.
"And I think we ought to pose the question to the Congress, and I think we ought to vote on it. I mean, we're putting our people in uniform in harm's way."
Roberts also said Congress needed to take action on entitlements and the federal budget this year, as he held a card with two quotes about entitlement reform from 2009 and 2010 attributed to Obama.
"If you look at those quotes, we're just asking him to live up to those statements," Roberts said. "Show us the way, Mr. President, and then we can have an honest discussion about it."
Dolph Simons Jr., chairman of The World Company, which owns the Journal-World, presented Roberts, a Kansas State University alumnus, with a Kansas University cap, causing the audience, including KU Chancellor Bernadette Gray-Little, to erupt in cheers and laughter.
"The chancellor knows that I cheer for KU when you're not playing K-State," said Roberts, who also predicted KU's men's basketball team would win the national championship.
Copyright 2018 The Lawrence Journal-World. All rights reserved. This material may not be published, broadcast, rewritten or redistributed. We strive to uphold our values for every story published.