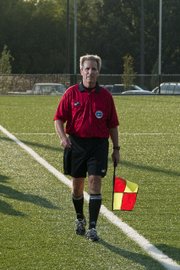 Jim LaPoint plays by the rules.
As one of the best soccer referees in the state of Kansas, he has to.
LaPoint, a Kansas University professor and longtime official, was named the Kansas State Boys Soccer Referee of the Year for 2010. It's the fourth time he's been recognized for his skills on the field, something he acknowledges with a smile.
"I think it's a validation that what you're doing is being accepted and appreciated," he said.
And all that LaPoint, 69, is doing is the same thing he's been doing since moving to Lawrence in 1978. He's refereed more than 2,000 games on the college and high school levels. He's spent more than 3,000 hours on soccer fields for the simple enjoyment of the game.
"I like the activity, and I like being with the kids," LaPoint said. "I just like the sport."
An athletic background
LaPoint knows a thing or two about sports. He played baseball, football, basketball and tennis for four years each in high school. He became a student manager in college while seeking an undergraduate degree. He's been a tennis coach and instructor. His children played hockey and soccer. He currently holds the sought-after position of KU men's basketball timer. And LaPoint has helped run a youth summer sports camp at KU for the last 30 years.
Even with all of this, he still finds time to teach in KU's health, sport and exercise sciences department. He also finds time for officiating.
"I've never turned down a game," LaPoint said of reffing junior varsity games even after working college games and 18 high school state championships. "I've never changed the schedule once. That's not how I am. Whatever game I'm assigned, that's what I take."
It's that attitude that has helped LaPoint be successful. He demands control of the environments surrounding the games he works. He keeps the coaches, crowds and players under control.
"He's one of the more professional and classy of the referees," Lawrence High boys soccer coach Mike Murphy said. "If there are ever any questionable calls, Jim is one who's made the fewest."
Tough but fair
LaPoint credits his success to the way he approaches the game, which is the same way he approaches teaching: tough but fair. During the years, refereeing has become a labor of love for LaPoint. He watches European games on TV and finds he pays more attention to the positioning of the officials than the players themselves. His passion for soccer is one reason he says he'll continue to referee even after he retires from KU at the end of the year. The money he makes from games is an added bonus.
"It's nice to have a little slush fund," he said. "To have a few extra dollars, have some spending money."
Though LaPoint has been recognized as one of the best, he's the first to admit he doesn't get every call right. He's also not afraid to let coaches and players know when he makes a mistake. Kaw Valley Soccer Association Executive Director Marcus Dudley has seen the effect of LaPoint's methods.
"He's known to be very much a purist, one of those refs that's strict and controls the game to a 'T'," Dudley said. "He's very well-respected."
And LaPoint has earned that respect during his years on the field. A common question asked by those who know him is, "How do you do that?"
The question is mostly in regard to how LaPoint manages to stay in good enough shape to keep up with high school athletes.
"I value fitness," LaPoint said simply.
People who know LaPoint agree he doesn't look his age. He hopes his fitness will allow him to continue officiating for years to come.
"I don't know that he'll ever really retire," Dudley said. "It's just not him."
Copyright 2018 The Lawrence Journal-World. All rights reserved. This material may not be published, broadcast, rewritten or redistributed. We strive to uphold our values for every story published.