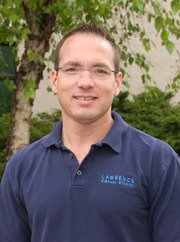 The principal who built the Lawrence school district's virtual school into the biggest of its kind in the state is leaving for a job in his hometown.
Gary Lewis, principal of the Lawrence Virtual School, 2145 La., starts July 1 as director of educational outreach in the Maize school district, northwest of Wichita.
There, Lewis will be in a new district administrative job, one responsible for alternative schooling, credit recovery, summer enrichment, summer camps, adult education — developing opportunities for students outside the "traditional setting," he said.
One major facet of such outreach will be starting a virtual school in Maize with plans to go statewide — the same situation he entered in 2004, when he came to Lawrence as the first principal for the new Lawrence Virtual School, then one of eight such operations born out of state start-up financing.
"It's another opportunity," Lewis said. "It's a program school. There will be 50 virtual schools in the state next year and, as you know, all of the virtual schools have competed with the other schools since we started. This is no different. It's just a different level of competition, really."
"It's being able to take what I've learned, and take that gift back to my home school district."
The Lawrence Virtual School is the state's largest such institution, a public school that last semester had 1,206 students enrolled in K-8 classes, including 58 from Lawrence and 81 from Douglas County. The school launched high school classes this year, and had 86 students enrolled for the fall semester.
Students pay a $97 enrollment fee, and receive instruction online. Each family with a student enrolled is loaned a notebook computer, and students receive all textbooks and curriculum materials from the district.
The virtual school has an assistant principal, Jana Lloyd, eight support staffers and a team of teachers throughout the state: 34 in general education and 10 in special education.
The Lawrence school district plans to conduct a search for Lewis' replacement.
"Gary Lewis developed a vision for making the Lawrence Virtual School a reality," Rick Doll, district superintendent. "He has used his experience, knowledge and skills to build a comprehensive virtual education program that is both an attractive option for families and a model for the state. Gary can certainly be proud of his role in the successes of the Lawrence Virtual School. His leadership will be missed."
Lewis grew up in Maize, graduated from Maize High School, and drove a bus for and worked as a paraeducator in the Maize school district while attending college at Wichita State University.
Lewis went on to teach in the district, starting with sixth grade and moving on to start programs in middle schools for computer programming, communications, broadcast journalism and technology explorations. He later worked in professional development for technology integration.
"Lawrence is a well-established school," Lewis said. "It has policies and procedures that work. They're in great shape as a school, and will be, still, quite successful."
Copyright 2018 The Lawrence Journal-World. All rights reserved. This material may not be published, broadcast, rewritten or redistributed. We strive to uphold our values for every story published.