Photo Gallery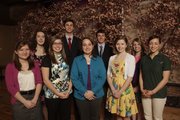 2011 Academic All-Stars
Carson Barnes
Carson Barnes started with the Real World Design Challenge at the insistence of a teacher. Little did he know that because of the challenge he would eventually meet President Obama.
Barnes and his team won the challenge in 2010 for designing a jet engine tail to deal with fuel efficiency in aviation. After putting in 200 hours of work on the project, Barnes was named a national champion.
"We were ecstatic. It was awesome," he said. "We were kind of in disbelief, because we never thought it would win."
Barnes is interested in all kinds of engineering and is planning to go into mechanical. He also likes the organization side of things. It helped him keep the design project in check, but it didn't prepare him for meeting Obama.
"It's hard to describe. He has his presence in a room, and time stops for a minute," he said.
When Barnes isn't winning national championships, he's out on the track, working to improve his event, the decathlon. He started the sport when he was 8, and ever since has been dedicated to it.
"I really got hooked," he said. "I'm a little bit of everything. I do the decathlon."
Barnes said he tries all different types of activities to see what he likes, but he knows that engineering is his passion. His victory in the challenge only reinforced that.
"It's shown me that I can do what I set my mind to, and there's lots of opportunities," he said.
School: Baldwin High School
Grade-point average: 4.0
Class rank: 1
Parents: Mark and Sandy Barnes, Ottawa
Highlights of achievements: Principal's Leadership Award (12), KU Engineering Expo: Rube Goldberg Champion (9), Real World Design Challenge state champion (10-11) and national champion (11), National Honor Society (10-12), choir (10), debate (9), 4-H president (10-11), BHS for VETS club (10,12), Fellowship of Christian Athletes (9-12), track (9-11), basketball (11).
College: undecided
Career plans: engineer
Major: undecided
Shereen Fattaahi
Look for Shereen Fattaahi outside of school hours and she can often be found working out. She plays volleyball, basketball and runs track at Veritas Christian School.
"It takes my mind off all the stress of the day," she said.
Running is a particular passion, and Fattaahi started running races outside of track to keep her busy. She just ran the Shamrock Shuffle, which ended in a surprise.
"I didn't know it was a competition, but I got first in my age group," she said.
Despite working out to take her mind off school, she likes attending the small private school, which has about 160 students from kindergarten to 12th grade. Fattaahi said she felt like a role model and a leader to a lot of the younger kids.
"Whatever I do will affect a lot of the choices there," she said. "You're taking care of others and setting an example."
Fattaahi is excited for the extra freedoms she'll enjoy in college, which she's attending with the goal to eventually move on to medical school. She wants to be a plastic surgeon, but she didn't always know she wanted that discipline.
"I always knew I wanted to be some kind of doctor, narrowed down to surgeon. I'm very detail-oriented," she said. "I narrowed it down to plastic surgery because my mom's like, 'Oh you have so much talent in art. Put that talent to art.' There's kind of an art to surgery."
School: Veritas Christian School
Grade-point average: 4.0
Class rank: 1
Parents: Shahraam Fattaahi, Leawood, and Debbie Fattaahi, Lawrence.
Highlights of achievements: National Society of High School Scholars, National Youth Leadership Conference attendee (9-11), student council treasurer, volleyball team captain (11), basketball team captain (11-12), track team captain (10-12), media operator at Lawrence Free Methodist Church (10-12), volunteer at Lawrence Memorial Hospital (12).
College: undecided
Career plans: plastic surgeon
Major: chemistry
Angela Hawkins
Gene Kelly, Shirley Temple and Fred Astaire are names that have come up multiple times in Angela Hawkins' life. When she was little, her grandma showed her Shirley Temple movies, which catered to Hawkins' love of dance. But then she started liking the historical aspect to the movies.
"As I gradually got older, it kind of grew on me," she said.
Hawkins started dancing when she was 3, when her mother and two other friends with daughters Hawkins' age put their kids into dance class. Hawkins never looked back. Tap is her favorite style.
"It's pretty rare. I think I'm the only one at my high school who does it," she said.
When Hawkins isn't dancing during halftime shows of games or in dance class, she's working on her high school paper, the Red & Blue Review.
She decided she wanted to be a journalist when she saw Katie Couric sitting in her big chair on the news every night. She's attending Kansas University in the fall and has been directly admitted to the journalism school.
"I like talking to people," she said. "I like having interaction with other people without having the pressure, the focus on me."
She's excited to leave for college, too. She likes her high school, but is ready to expand her world beyond Santa Fe Trail High School.
"I kind of feel like a big fish in a small pond," she said. "It would just be really nice to get out and learn more about the world."
School: Santa Fe Trail High School
Grade-point average: 4.0
Class rank: 3
Parents: Mitch and Cheryl Hawkins, Scranton
Highlights of achievements: KU Honor Scholar (12), variety show (9-11), Students Against Destructive Decisions (9-12), Kansas Association of Youth (9-12), National Honor Society (11-12), Fall Musical (9-12), newspaper staff (10-12), dance team (10-12)
College: Kansas University
Career plans: news reporter
Major: journalism
Corinne Hoffhines
Corinne Hoffhines might seem like a busy girl. She's involved in 4-H, band, dance, forensics and just about every type of organization at McLouth High School. It's all for a reason, though.
Five years ago, a family friend died in a four-wheeling accident, and ever since then Hoffhines has tried to enjoy life as much as possible.
"It makes me think that I need to live life to the fullest and not to take a single minute for granted," she said. "I'm doing things that I wouldn't ever see myself doing."
That's how she got involved in forensics, after the coach had been trying to convince her to try for years.
"I tried it last year and I love it," she said. "It's definitely taught me teamwork, because we all work as a team to do better."
Hoffhines heads off to Washburn University next fall to get a degree in secondary math education. She said her math teacher in school stresses how important it is to educate the next generation in the subject.
"Math is a huge role in everybody's life," she said. "I think it's important that we educate them."
School: McLouth High School
Grade-point average: 4.0
Class rank: 1
Parents: Chris and Angela Hoffhines, McLouth
Highlights of achievements: National Honor Society (11-12), Delaware Valley League Forensics Informative Speech champion (11), Kansas Honors Scholar (12), band (9-12), flag team (11-12), Vacation Bible School teacher (9-12), 4-H club (9-12), blood drive volunteer (11-12).
College: Washburn University
Career plans: math teacher
Major: secondary math education
Madison Hunter
Madison Hunter used to go to a small private school in Tonganoxie. Her class had 12 people in it, and she grew up with those kids. But in fifth grade, her family decided it would be best for her to transfer to the larger public Tonganoxie High School. She hasn't looked back since.
"I got to see the social aspect at the public school," she said. "It was just being in a different environment. I had so many more different electives."
Hunter has taken advantage of all the opportunities available at the school, participating in band, choir, art and drama classes. These classes, especially drama, allowed her to branch out, such as when she was Cogsworth's understudy during a school production of "Beauty and the Beast."
"It's a way for me to express myself," she said. "I was always kind of a shy girl when I was younger."
In addition to her love of the arts, she's also a self-described "nerdy kid" who loves science and math. For Science Olympiad, she builds towers and tests them to see how she can make them better. And for her career, she wants to become a math teacher, following in the footsteps of many of her aunts.
"I enjoy helping people learn," she said. "It makes me feel good after I've helped someone."
School: Tonganoxie High School
Grade-point average: 4.0
Class rank: 1
Parents: Scott and Shelly Hunter, Tonganoxie
Highlights of achievements: National Honor Society (11-12), band letter winner (9-12), drum major (11-12), Educational Excellence Award (10-12), choir letter winner (11-12), Science Olympiad (9-12), Student Council (9-12), honors choir (9-12), jazz band (9-11), Thespian (9-12), softball (9-11), cross country (11-12), Community Service Day (9-11)
College: Emporia State University
Career plans: secondary math teacher
Major: mathematics
David Lawrence
David Lawrence thought something was missing at Bishop Seabury Academy. He was into current events and regularly debated them with his friends, and he decided the school needed an outlet for such discussions. So he started the state's first 1A debate team.
"I thought it would be a lot of fun. I thought it would be intellectually engaging," he said.
There aren't enough 1A or 2A schools with teams to have a state tournament, so the team competes at the 3A level. Lawrence worked to coach the team and was the main author of its constitution. While he's leaving the team for college, his experience will always be with him.
"I will certainly take the skills with me regardless of what I do," he said.
Lawrence has another start-up under his belt: the website www.jitneysnow.com. A visit shows a reader that a jitney is a form of public transportation, a cross between a bus and a taxi, that was outlawed in the early 20th century.
Lawrence started talking about the vehicles with his parents when they discussed economics and transportation. When a debate topic was social services, he said his idea took off and he built the site.
"I did my part for now in terms of being politically active with it," he said. "It's something that would really only be good for cities with really high urban densities."
In the fall he's headed to Yale, where both his parents went. He's excited to leave but says he'll miss high school.
"I was raised with the idea that Yale is a fantastic place," he said. "I'm going to really miss high school, but I'm very excited. It's bittersweet."
School: Bishop Seabury Academy
Grade-point average: 4.381
Class rank: 1
Parents: Larry Lawrence and Erica Landsberg, Lawrence
Highlights of achievements: National Merit Scholar Finalist (12), NCTE finalist (12), prefect (12), debate founder, captain and coach (11-12), Fifth place at state debate championship (11-12), Forensics co-captain (11-12), State champion in extemporaneous speaking (11), Student Senate representative (9-12), Chair of finances and proposals committee (12), Captain of varsity tennis (11-12), No. 1 singles and doubles (11), tennis letter winner (9-11), Eagle Scout (10).
College: Yale University
Career plans: undecided
Major: economics, political science or history
Rosemarie Murray
Rosemarie Murray's family is split. There's the science side, with her father the nuclear physicist and her sister the chemical engineer. On the humanities side, her older brother is in philosophy and her younger brother wants to do English. Rosemarie is going to join the science side.
She became involved in engineering when she joined Science Olympiad in eighth grade and decided she liked figuring out how things work.
"I really liked the process of here's what we need the machine to do, how do we find a machine that can do that?" she said.
That set off a chain of engineering-focused activities for her. She took an independent study of the mechanics of lift, then shadowed an aerospace engineering professor at Kansas University. Then came another independent study, this time in the history of sound recording. All her experiences have given her a goal for after she gets an aerospace engineering degree and a master's in mechanical engineering.
"One of the things I'd really like to do is look at nature and try to design something inspired by nature," she said.
Faith is the other major part of her life, something Murray said her mother has instilled in her and her family of nine. She was confirmed in the Catholic Church in ninth grade, and that's when she really started making it her own.
"I've always gone to church every Sunday since I can remember," she said.
School: Free State High School
Grade-point average: 4.0
Class rank: 1
Parents: Michael Murray and Maureen Meehan-Murray, Lawrence Highlights of achievements: National Honor Society (11-12), Kansas Honor Scholar (12), KU engineering design competition team captain (9), Band (9-12), Choir (9-12), Dance (9, 11), Math team (9-12), Lawrence Youth Symphony (9-10), Knowledge Master participant (9-11).
College: undecided
Career plans: aerospace engineer
Major: mechanical engineering
Anna Stone
Signs up around Ottawa High School advertised a new ninja club, and students were buzzing about it. Many signed up, but when it came time to attend the meeting, no one could find the room. That's because it didn't exist.
Anna Stone and a friend were behind the sign, one of the harmless pranks she said she did at school to keep her time there light-hearted.
"You have to have fun in high school but you have to express yourself somehow," she said.
That's not to say she doesn't take her schoolwork seriously. Stone has discovered a passion for all things politics and history, after her teacher in the gifted program made her and a friend do a project for National History Day in sixth grade. She also had a mentor in Lisa Rivers, her adviser in Youth Action Council and Youth in Government.
"I was kind of a quiet, shy person, and she just showed us that if you believe in something, you should be able to communicate it," she said.
Stone joined forensics and debate, and the rest is history. She plans to major in political science, adding economics or Arabic minors, then graduate school.
Stone eventually wants to move to Washington, D.C., to become a political adviser or linguist for the State Department. She says most of her activities in school have focused on this kind of work.
"It's all kind of converging on one point," she said.
School: Ottawa High School
Grade-point average: 4.0
Class rank: 1
Parents: Jonathan and Debra Stone, Ottawa
Highlights of achievements: Kansas Honor Scholar (12), tennis (9-12), debate (9-12), forensics (9-12), National Honor Society (11-12), Youth Action Council (10-12), Youth in Government (9-10), National History Day national champion (11).
College: Kansas University
Career plans: political adviser or linguist
Major: political science, economics or Arabic minor
Marshall Thurman
In sixth grade, Marshall Thurman won the lead in a school play. That was when his passion started.
"It wasn't anything serious, but I took it to heart," he said.
After a number of school and community productions, Thurman has auditioned for conservatory theater programs around the country. He hopes to go to school in a big city like Chicago or New York City after living in Lawrence his whole life.
"I love Lawrence, but I'm just looking for something different," he said.
Thurman is ready to focus in on his passion at a school where multiple acting courses are offered, where he's sure to make an impression. It's something he does even here.
"I like to stand out. I don't like to be noticed necessarily, but I like to make a deep impression," he said.
He's made an impression in the school's forensics team, for which he earned the most points his junior year. He likes the competitive aspect.
"It's an actor's sport," he said.
Long term, Thurman hopes to be able to get steady work and to be able to choose between theater acting and movie acting. His family hopes he reaches that goal, which will start with moving away for school.
"They're sad to see me go but happy to see me doing something I love," he said.
School: Bishop Seabury Academy
Grade-point average: 4.378
Class rank: 2
Parents: Tim Thurman and Carolyn Thompson, Lawrence
Highlights of achievements: National Merit Commended Scholar (11-12), National Latin Exam: Summa Cum Laude (10,12), Maxima Cum Laude (11), prefect (12), fourth place in Duet Acting at Forensics State (10), seventh place in Serious Solo Acting (11), Forensics captain (11-12), Director of Lower School touring play (12).
College: undecided
Career plans: actor
Major: theater
Ann Wallsmith
Ann Wallsmith gets to play Quidditch at school this year. For all the Harry Potter fans out there, she says it's actually quite a workout. The activity is for the Harry Potter Club at her school, which has about 30 members. Wallsmith and her friends started the club, which meets once per month. They bonded over the books, which had played a big part in their lives.
"It might sound a little dweeby, but it's helped a couple of us through some tough times," she said.
Wallsmith loves to read, and she loves J.R.R. Tolkien's Lord of the Rings trilogy, which she tries to read every year. She said her dad taught her how to read when she was only 3.
"I remember him making flash cards," she said.
Many of the things she loves now came at the suggestion of her elders. Her middle school band director asked if she wanted to play bassoon, which is now part of the large range of instruments she plays: clarinet, bass guitar and piano.
A teacher also pushed her toward engineering, which she hopes to go into after college. She was hesitant at first, but after attending an event at Kansas University on women in engineering she realized the possibilities in engineering were endless. After earning a chemical engineering degree and going to graduate school, she hopes to improve or design medicines.
"Sappy as it sounds, I want it to mean something. I want to help someone," she said.
School: Baldwin High School
Grade-point average: 4.0
Class rank: 1
Parents: Dan and Heather Wallsmith, Baldwin City
Highlights of achievements: National Merit Commended Scholar, Kansas State Scholar (12), Honor Roll (9-12), KSPA State journalism competitor (11), Band (9-12), journalism, news and editor-in-chief (11-12), National Honor Society (11-12), musical theater (9-12), choir (9-12), Harry Potter Club (12), church youth group (10-12).
College: Kansas University
Career plans: pharmacy
Major: chemical engineering
Copyright 2018 The Lawrence Journal-World. All rights reserved. This material may not be published, broadcast, rewritten or redistributed. We strive to uphold our values for every story published.