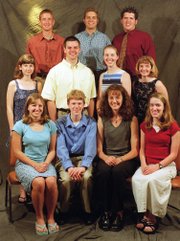 Some are still in school. Others are working in their chosen careers — some envisioned since high school, others discovered through a life journey through college and beyond.
All are Academic All-Stars alumni, these 11 exceptional students who earned the Journal-World honor a decade ago and have since managed to make their marks here at home and elsewhere.
Here's a look at the 2001 Academic All-Star class — then and now — and the advice they have for those who are just now following in their footsteps:
Leah (Cummings) Collins
Then: As a student at Lawrence High School, she recorded a 3.92 GPA, a 32 on the ACT, volunteered at Douglas County Hospice, served as a camp counselor, spoke to student groups such as Students Teaching About Tobacco and Every Seventeen Minutes, and enjoyed musical performances as she planned to attend Kansas University to study journalism, business, political science and Spanish. "I want to be in public relations and end up working anywhere they have Broadway productions," she said at the time.
Now: She's a strategic adviser for Grizzard Communications in Atlanta, Ga., where she works as a fundraising consultant with 15 independent humane societies and chapters of the Society to Prevent Cruelty to Animals — traveling to their locations throughout the country, from southern California to New Hampshire. Leah married Brian Collins, another LHS alumnus, last year on the KU campus. They started dating during their junior years at KU, while studying abroad in Italy. She received her bachelor's degree in journalism (strategic communications) from KU, and a masters degree in political management (fundraising and nonprofits) at George Washington University. "Someday I would love to work for KU Endowment," she says.
Advice: "Don't hurry through undergrad. Take your time and enjoy a full four — or five — years. You'll miss that time of your life later. (And) pick a practical degree that will afford you a good career with set daytime hours — think pharmacy or ophthalmology, not pre-med."
Lauren Gantz
Then: At Perry-Lecompton High School, Lauren played flute in band, sang in the select choir, served as a manager for the softball team, participated in Students Against Drunk Driving, was a member of the National Honor Society, participated in 4-H, played guitar, wrote poetry and planned to attend Emporia State University to major in communications or music, and to become either a journalist or a music teacher. "I'm just glad ... I was involved in a variety of activities to find out what I like and what I didn't like," she said at the time. "It will help me down the road."
Now: She's working on a doctorate in English at the University of Texas at Austin, having already earned a bachelor's in English at Emporia State and a masters in English at Ohio University. Her dissertation involves literature written by Caribbean natives or their first-generation descendants who have come to the United States. Lauren speaks Spanish, has traveled to Puerto Rico and other exotic locales for conferences, and looks to land a tenure-track position at a university where she can teach and publish.
Advice: "Looking back, if I could tell myself anything, the main thing I'd say is, 'It's OK not to know where you're going.' A lot of times the most rewarding things aren't ones you go out seeking: They're things that you happen upon, or they happen upon you. Try a lot of things and find what you like — and worry less."
Jeremy Glen Immer
Then: At Eudora High School, Jeremy served as senior class president, participated in blood drives, volunteered through Kids Voting and worked on the student newspaper as a photojournalist while earning a 3.9 GPA and scoring 34 on his ACT, and planned to major in chemical engineering at KU.
Now: He's a senior research engineer at Air Products in Allentown, Pa., and is married with a 3-year-old daughter and a new baby on the way. He received his bachelor's degree in chemical engineering, with an emphasis in petroleum engineering, at KU, and received masters and doctoral degrees in chemical engineering at North Carolina State University.
Advice: "It's cliché, but I would recommend working/studying in an area that one enjoys. I found math and science courses in high school came very naturally and were enjoyable, so it isn't too surprising that I really enjoy my work — both in college and in the workforce, since I went into a field heavy in science and math. Enjoying my work not only makes it easier to apply myself in my studies and job, but it also leaves me relatively stress-free, so I still have energy after work. That lets me enjoy life more and be a better husband and father than I could if I was stressed out."
Tristan Moody
Then: At Free State High School, Tristan played piano, played percussion in marching band and sang in choral groups while posting a GPA of 3.94 and an ACT score of 33 — earning a National Merit scholarship and a School of Engineering scholarship from KU, where he planned to study aerospace engineering.
Now: He's married to the former Krista Miller — they'd met while traveling the country playing in a drum corps — and he's still in school at KU, working on a doctorate in mechanical engineering, having already earned the masters and bachelor's versions earlier on campus. His latest work: computer simulations of fluid flow, akin to the effects of shockwaves on spacecraft and other supersonic aircraft. He figures he'll seek a faculty position somewhere or find a company that is into "blue sky research" once he finishes his doctorate later this year. But for now he's busy feeding simulations into a computer stack of 31 servers. "It's not done for a day or two," he says. "It's like baking cookies when you don't know the recipe, and the oven takes two days to bake them."
Advice: "Learn to take charge of your education. You'll be told to do this and told to do that, and you'll take classes that are good and you'll take classes that aren't so good. Learning to tell the difference is key. ... Find something you like doing, because you don't want to go all the way through and get to be almost done and then realize you hate what you've gotten your degree in. I've seen that happen too many times."
Amanda (Leach) Sweet
Then: At De Soto High School, she secured a 4.0 GPA and a 29 on her ACT as she participated in yearbook, cheerleading, Girls State, theater and forensics - and enjoyed her math classes, including calculus, so much that it helped shape plans to attend Baker University to earn a degree in secondary education. "I'm one of the people in the class who really understands calculus, so sometimes my teacher, Dwight Spencer, says I should be the one teaching the class," she said back then.
Now: Having indeed earned a bachelor's degree at Baker - in English - Amanda is back in familiar surroundings: She teaches freshman English at her high school alma mater. "I actually teach in the same room that I took junior Honors English in," she said, with a laugh. "It's pretty interesting. Bonnie Montgall was the teacher. She's retired now. But I learned a lot from her and my other teachers at De Soto that I use today." Amanda got married in 2007 to Josh Sweet, and they live in Olathe. She plans to finish up a master's degree soon, so that she can "continue my education while I educate others," she said. "I really enjoy what I do and am glad that I picked something I was sure of and passionate about," she said. "I really enjoy going to work every day."
Advice: "Just make sure that when you're deciding what to do with your life, that it's something you care about."
Jeff Taylor
Then: As a student at Wellsville High School, Jeff participated in pole vault, ran cross country and was active in church youth groups and mission trips. He also enjoyed physics, and helped design small-scale bridges out of pasta and balsa wood - all as he earned placement in the engineering honors program at Kansas State University, where he planned to study mechanical engineering.
Now: Taylor is a mechanical engineer at Garmin, working on automotive navigation products after having earned his bachelor's degree in mechanical engineering in 2007 at K-State. He'd originally participated in the school's airway science program - many graduates typically go on to be airline pilots - but switched into mechanical engineering after two years. "I realized the lifestyle of a pilot wasn't for me," he said. "But I've got my pilot's license and everything, so I can still fly." In 2009 he married Emily Johnson, who also went to Wellsville High School. They'd known each other through church. Now they have a 1-year-old daughter, Nora, and the family lives in Wellsville. "The job's great," he said. "I really love it. And it's nice to be in the area I grew up in and to be close to family."
Advice: "When making choices, don't be afraid to take chances. Switching over (from airway science to mechanical engineering) was a challenge. I wasn't sure it was the right decision, but it worked out in the end."
Amy (Runnebaum) VanDorn
Then: At Santa Fe Trail High School, Amy's activities included softball, dance team, National Honor Society and Kansas Association for Youth. While earning a 4.0 GPA and becoming class valedictorian, she fostered an interest in chemistry that made her want to pursue a chemistry degree at Kansas State University.
Now: Amy is in her seventh year as a math teacher at Kapaun Mt. Carmel Catholic High School in Wichita, after having earned a bachelor's degree in math education - not chemistry - in 2004 at K-State. She's coached softball and cheerleaders and been adviser for Student Council. She married Jeffrey VanDorn, an aerospace engineer for Dassault Falcon, in 2009, and they're planning a move to Little Rock, Ark., where Amy already has secured a job to teach ninth-grade math in nearby Benton. The VanDorns have a 5-month-old boy, Cyrus. The boy's first name is in honor of "Cy the Cyclone" at Jeffrey's alma mater, Iowa State. "His middle name's William, for Willie the Wildcat," Amy said.
Advice: "Don't feel bad if you change your major. You learn so much about yourself in that first, even, semester, that you shouldn't feel bad. You find new interests, and meet new people and get led on so many different paths that you couldn't imagine."
Darren Welch
Then: At Tonganoxie High School, Welch competed in debate and forensics - twice winning state debate titles - while participating in math club, art club, on the Knowledge Bowl team and in theater productions. He earned a 4.0 GPA and a 34 on the ACT, securing a full-ride scholarship to the Illinois Institute of Technology in Chicago, where he planned to study engineering and someday become a nuclear engineer and conduct research at a top-flight institution such as the Los Alamos National Laboratory. "Math and science will always be two of my passions in my life," he said at the time. "I would like to give something back to the community and become successful."
Now: Darren is a chemist with the Kansas Department of Agriculture in Topeka, working in a lab at Forbes Field, where he analyzes feeds and fertilizers both to assure that they don't contain toxins, molds, heavy metals or other problematic materials, and to assure that certain products contain the ingredients - such as nitrogen, sulfur, potash and others - that companies say they do. He's a 2007 graduate of Kansas University, with a bachelor's degree in chemistry after having left Illinois Tech after a year and a half. "I went through a phase where I didn't know what I wanted to do," he said. "I was a chemical engineering major, then political science, then philosophy, then back to chemistry." He served as a research assistant in KU's geochemistry lab until December 2009, and he still lives in Lawrence.
Advice: "Never give up ... be open, and always be looking for the next opportunity, because you never know exactly where your life is going to take you. Even if your plans change over time, that's fine. "When you graduate high school, it seems like you may have everything figured out - and know exactly where you're going to go in life - but a lot of change can happen. Be prepared to change and adapt, because you never know where your life is going to take you." He paused. "I haven't lost my penchant for wordiness. Things don't change that much."
Diana (Jordan) Wiard
Then: At Lawrence High School, Diana earned a 4.0 GPA, a 32 on her ACT, recognition as a National Merit finalist and membership in the National Honor Society. She also participated in orchestra choir, band, student council, Fellowship of Christian Students, and aviation and French clubs, and left LHS to attend Southwest Baptist University in Bolivar, Mo., with plans to become an English teacher in the mold of Lynne Renick, her English teacher at Southwest Junior High School. "We had great discussions in class," Diana said back then. "It was great."
Now: Diana is a stay-at-home mom in Austin, Texas. She and her husband, Brett Wiard, an IT manager, are the proud parents of an adopted daughter, 1-year-old Hannah. After earning her bachelor's degree in English at Southwest Baptist in 2005, she taught preschool and enjoyed it. Now she stays active in their church, where she is organizing an adoption and foster care support group. She laughs recalling the sewing class she took to fill hours during her second semester of her senior year at LHS. "I still use that class," she said. "Out of all my high school classes, that was the most useful."
Advice: "Don't take yourself too seriously. In a lot of ways, high school is just a beginning, and if you get too focused on it, you kind of lose perspective about the rest of your life. High school is just the beginning. There is a lot more than that."
Jay Wiesner
Then: At Lawrence High School, Jay was a team player: an honorable mention All-Sunflower League offensive lineman for the varsity football team, a member of the scholars' bowl team, and co-captain of the state champion High Q team. He planned to play football at Grinnell College in Iowa and, looking ahead, he could foresee earning master's and doctoral degrees in history - possibly at the University of Chicago - so that he could teach history in college. "At that level," he said at the time, "kids are really choosing to be there."
Now: Jay is working on his master's degree in American history, following up on the master's degree in education he'd earned this past summer at Lindenwood University in St. Charles, Mo., which in turn followed the bachelor's degree in history he'd earned at Grinnell. He's married to Erin Suffron, a classmate at LHS, who is a physician assistant. They live in Overland Park, as they decide where to go next. Jay's still interested in pursuing a doctorate, and then gearing up for a career in education: working with youth groups, teaching at a community college or possibly even starting his own school. "I'm keeping my options open," he said.
Advice: "I'll tell you what I wish I would have told myself: You just spent the last four years working yourself to death to get good grades, extracurriculars, teacher recommendations - everything you're supposed to do to get into a good college - and now you're there. Enjoy it. Have some fun and just take a couple classes you're not sure you're interested in, so you can expand your horizons, because you never know what you're going to find you actually love to do."
Joyia (Chadwick) Yorgey
Then: At Free State High School, Joyia posted a 4.0 GPA and scored 32 on her ACT, earning recognition as a National Merit finalist, and made plenty of music with her voice and flute. She also competed in volleyball, basketball and track, and was offered a volleyball scholarship at the University of Nevada at Reno. She would choose, instead, to attend Williams College in Williamstown, Mass., to give her a better shot of working overseas as a diplomat or representing some international organization. "I could pursue volleyball or challenge myself with academics," she said, at the time. "In the end, I chose academics."
Now: Joyia is a policy researcher at Solutions for Progress, a public policy and technology company in Philadelphia that works to "improve the lot of low- to moderate-income families in Pennsylvania and across the country," she said, by helping people connect with resources for paying taxes and receiving services such as food stamps and health insurance. She also manages a volunteer tax-preparation site in downtown Philadelphia, one with 175 volunteers who already have assisted on 1,500 of an estimated 3,000 returns for this tax season. Her husband, Brent Yorgey, is pursuing his doctorate at the University of Pennsylvania. Joyia earned a bachelor's degree in math at Williams, in 2005, where she also played volleyball and competed in track. She followed that with a master's degree in international politics from American University in Washington, D.C., in 2008. Oh, and she manages to play volleyball in a women's club team. "I feel like my life has been on an upward trajectory," Joyia said. "I don't reminisce about the good old times in high school or college, even. They were great, but each new step has been exciting, and I continue to look forward to the new things that life brings."
Advice: "This is partly reflecting on my own anguish in choosing a college to go to. These students will be right in the middle of that same process right now: "The choices that you make right out of high school, while important, they're not going to define your life for the rest of your life. I studied math, and then I said, 'I want to study politics.' You have that option. You're not boxed in. "You can go to KU and then go to Harvard for graduate school. Just because you don't go to Harvard for your bachelor's doesn't mean you can't be successful."
Copyright 2018 The Lawrence Journal-World. All rights reserved. This material may not be published, broadcast, rewritten or redistributed. We strive to uphold our values for every story published.