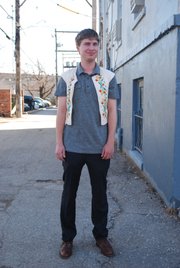 Name: Tyler Waugh
Age: 24
Sign: Scorpio
Relationship Status: Single
Hometown: Topeka, Kan.
Time in Lawrence: Around five years.
Occupation: Photographer, musician and sandwich delivery boy.
What were you doing when scouted? Visiting a friend downtown.
How would you describe your style? Bright, eclectic and sometimes obnoxious.
What are your current favorite fashion trends? Lots of accessories and nice shoes.
What are your least favorite fashion trends? I like everything. If you like it, flaunt it.
What would you like to see more of in Lawrence? House shows and people dressing up to dance.
What would you like to see less of in Lawrence? Bad drivers and wall flowers.
Do you have any piercings or tattoos? I have a tattoo of Kansas with a star for Topeka over my heart.
Do you have any fashion influences? Gwen Stefani and my brother, Kansas.
People say I look like: My three older brothers and Michael Cera.
Tell us a secret: I subscribe to both Papa Murphy and Degrassi text messages.
Copyright 2018 The Lawrence Journal-World. All rights reserved. This material may not be published, broadcast, rewritten or redistributed. We strive to uphold our values for every story published.