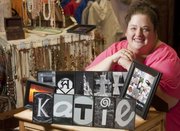 Jana Butcher needed a new job after being laid off last year.
She had always been creative, and she got an idea after seeing someone selling photo collages of letters spelled into words on television. So in October, she started selling her own pastiche of photos she'd taken, many of recognizable letters and signs in Lawrence and others of Kansas University items.
"I thought Lawrence was such a great place to sell my stuff," she said.
Butcher will be at Saturday's Spring Arts and Crafts Festival, set for 9 a.m. to 4 p.m. in Building 21 at the Douglas County Fairgrounds.
The show, put on by the Parks and Recreation Department, will feature both handmade items and manufactured items.
Duane Peterson, special events supervisor for Parks and Recreation, said there was a need for shows such as this.
"Lawrence is such an artsy community, so that's one of the reasons we put it on," he said.
Another exhibitor will be Karon Hornberger, who started decorating mailboxes as a hobby. It developed into something she starting taking to craft shows.
"It's more just sharing my joy," she said.
Copyright 2018 The Lawrence Journal-World. All rights reserved. This material may not be published, broadcast, rewritten or redistributed. We strive to uphold our values for every story published.