Boys and Girls Club to lose Janet Bremby as executive director
The departure of Kansas Department of Health and Environment Secretary Rod Bremby to Connecticut will leave another hole in Lawrence. His wife, Janet Bremby, has been the executive director of the Boys and Girls Club of Lawrence for 12 years.
Janet Bremby said Tuesday that she will stay in Lawrence for the next few months as the Boys and Girls Club board searches for a replacement. When a new executive director is found, Janet Bremby plans to complete the move to Connecticut to be with her husband.
The Boys and Girls Club, a nonprofit organization, serves about 1,200 children every day.
"I'm very supportive of Rod and really excited about this new opportunity," Janet Bremby said.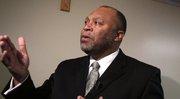 Former Kansas Department of Health and Environment Secretary Rod Bremby is leaving Kansas to serve as head of a state agency in Connecticut.
Connecticut Gov. Dannel Malloy announced Tuesday that Bremby would be the commissioner for the state's Department of Social Services.
Malloy noted that Bremby had the "right mindset to make the changes needed to ensure we are making progress for Connecticut's most vulnerable residents."
Bremby was contacted by the governor's administration team about the position, which will start in April.
"I was surprised. It was also clear to me that they had done their homework. They were well aware of many of the issues in Kansas and many of the issues I was involved with and facing at the KDHE," Bremby said.
Bremby, a Lawrence resident and former assistant city manager for the city of Lawrence, was removed as KDHE secretary in November.
In 2007, Bremby became a controversial figure across the state when he denied Sunflower Electric Power Corp.'s permit to build two coal-fired power plants in western Kansas. His denial was based on the plants' potential contribution of carbon dioxide and other greenhouse gases.
It was a decision that was supported by then-Gov. Kathleen Sebelius, who appointed Bremby to the position in 2003.
In 2009, Mark Parkinson overturned that decision when he became governor and offered a deal to allow for one coal plant to be built in exchange for new laws on renewable energy.
In November, Bremby was removed after refusing to resign as head of the KDHE to coordinate the cabinet transition from Parkinson's administration to that of incoming Gov. Sam Brownback. Bremby said he was willing to help with the transition, but didn't want to leave office to do so.
After Bremby's departure, replacement John Mitchell approved a permit for a proposed 895-megawatt coal-burning power plant, just before new federal regulations on greenhouse gases went into effect in January.
On Tuesday, Bremby said he didn't think the coal plant controversy hurt his chances of landing the job in Connecticut.
"I think the fact it was done using the law with reason was something that worked in my favor. But I don't know to what extent that had much to do with the appointment," Bremby said.
He also noted that the focus on the coal plant overshadowed many of the accomplishments that occurred at the KDHE during his tenure.
Some of the work he did as KDHE secretary — such as upgrading technology, developing web based applications and finding ways to better integrate employees and services — will translate to his new role.
The Connecticut Department of Social Services oversees 90 legislated-mandated programs and has about 2,000 employees. At KDHE, Bremby had a staff of 1,000.
"It's a much larger organization in terms of people, programs and resources. But the programmatic work of serving people is still the same," Bremby said.
Copyright 2017 The Lawrence Journal-World. All rights reserved. This material may not be published, broadcast, rewritten or redistributed. We strive to uphold our values for every story published.