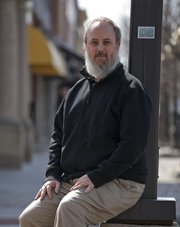 From behind his computer screen at Lawrence Memorial Hospital, Tyler Palmer spends his days seeking out effectiveness, efficiency and clear lines of communication for hooking the main campus up with nearly a dozen associated clinics, doctors' offices and other operations.
Now he'd like to extend his connective expertise to a new field: education, as a member of the Lawrence school board.
"I think I can make a difference," said Palmer, a network engineer. "My jobs for the past 15 years — whether doing software or networking or whatever it happens to be — have been working with computer systems, doing analysis of complex systems and using all the data I've gathered to come up with the best solution for any given situation.
"As a weak analogy, it applies to the situation of the board and the district: a complex system, with many moving parts and variables you need to deal with. And I think I'm uniquely qualified to do that."
Palmer, 38, is one of nine candidates campaigning for four available seats on the Lawrence school board. The general election is April 5, with winners to start their four-year terms in July.
When deciding whether to run for office, Palmer ran the data through his mind and liked what came back, despite what some may consider an unconventional foundation.
Palmer is single, with no children, and has not spent any real time in or around a public elementary or secondary schools since he graduated from Salina Central High School back in 1991. Others may have participated in PTOs, or supported bond issues, or served on committees or on task forces or as actual board members, but Palmer embraces his role as something of an educational outsider.
"I see it as both as advantage and a disadvantage," he said. "I don't have a kid in the district. I'm not privy to the day-to-day things going on in a school. But, at the same time, I can take a step back and look at things through a broader perspective. …
"I don't have an ax to grind. I want to gather all the information I can from all sources so I can make the best decision for all our students."
Life lessons
Perhaps Palmer picked up the analytical approach early on. He remembers how he and a few classmates, late in their elementary school years, had found themselves well ahead in their math lessons.
And seeing no reason to stop, he said: "We asked our teacher: Can we go ahead and finish off the book? She said, 'Yeah, go ahead.' "
Such accelerated thinking led him to earn two undergraduate degrees — psychology and premedicine — at Kansas State University, where he spent two years as a percussionist in the marching band. He went on to earn a master's degree in computer science at Kansas University in 2001.
Next stop: Synergy Technology, a software startup in Tulsa, Okla., creating "collaboration and communication" applications for companies ranging from 10-employee operations to multinational corporations, including Wal-Mart. It was there, starting as a software developer, that he quickly branched out into systems administration, marketing, network administration, business strategy and all those other roles that led "dot-coms" of the era to become the next big thing.
Or not.
"Making all the stars align can sometimes be a tough task," he said, of the firm where he'd started as the fifth employee, watched it grow into 25, then slip back to five at the end. "Sometimes you win, sometimes you don't."
Setting goals
When it comes to schools, Palmer wants to improve communication among the board, district administrators and teachers — and to foster more collaborations between teachers and different schools. That should help lead to improved test scores for students, he said.
Curriculum also needs to become more standardized and uniform districtwide so that students moving from school to school or even up from grade to grade can avoid "limbo" that results when past work doesn't sync with new expectations.
The district also must create a serious long-range plan, instead of going "from crisis to crisis" each year, Palmer said. The goal would be to establish priorities for programs, activities and even schools so that if and when budget cuts need to be made — like this year — the community can start its conversation from a common foundation.
"Then we know where we're going and how we want to get there," he said.
Copyright 2018 The Lawrence Journal-World. All rights reserved. This material may not be published, broadcast, rewritten or redistributed. We strive to uphold our values for every story published.