Photo Gallery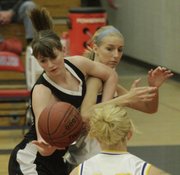 FSHS girls vs. Olathe South
Olathe — Free State High's girls basketball team didn't need any reminder of how out of hand Saturday's sub-state championship game was, but it got one anyway.
Just before the start of the fourth quarter, an announcement was made over the PA to drive the point home. The gist of the message: a running clock would be employed for the final eight minutes due to the 30-plus disparity in point total.
Saturday was not the Firebirds' night.
"We ran into a buzzsaw tonight," coach Bryan Duncan said following Free State's season-ending 65-41 drubbing at the hands of defending state champion Olathe South at Olathe North High.
Any thought the Firebirds had of knocking off the Falcons (21-1) seemed to fizzle away in the opening minutes.
Behind a flurry of easy layups and stick-backs, O-South raced to a 10-point cushion, which ballooned to a 40-19 halftime lead after a 18-7 second quarter.
"We were so excited and ready to go," Alexa Gaumer said. "And then they hit that first fast break, and everything went out the window."
Though star guard and Kansas University commit Natalie Knight only turned in a modest eight-point, five rebound performance, virtually every other Falcon went to work.
Stacey Mgbike (14 points, 13 rebounds) and Alexandra Hugo (eight points, 10 rebounds) were simply too big and too powerful to contain down low, especially after Abbey Casady was whistled for two quick fouls.
When the Falcons — who outrebounded FSHS, 50-29 — weren't wreaking havoc down low, they were draining threes (six of 12 on the night) or knocking down jumpers on the outside.
"They were just extremely aggressive," Duncan said. "We just didn't have an answer for that tonight."
While the Falcons came out rolling and never relented, the Firebirds sputtered on offense early and never found any sort of rhythm.
Kennedy Kirkpatrick and Chelsea Casady each put in six points to lead FSHS, which shot 35 percent and was only 3-of-15 from behind the arc.
"They forced us into a game we didn't want to be in," Duncan said, "in terms of taking quick shots and flying up and down the court."
Afterward, the Firebirds (11-11) seemed more upset about losing senior Paige Rothwell, likened to "another assistant coach" by her teammates, than falling to a superior Falcons team.
"Tonight was tough for me," said Rothwell, who missed nearly the entire season due to a torn anterior-cruciate ligament, "for it to be the last time I put on this jersey."
But because Rothwell is the only player graduating from this year's team, there was plenty of optimism on the Firebirds' side.
"We have an opportunity to be an extremely good basketball team next year, and we know that," Duncan said.
Copyright 2018 The Lawrence Journal-World. All rights reserved. This material may not be published, broadcast, rewritten or redistributed. We strive to uphold our values for every story published.