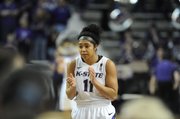 On one hand, tonight's game at Kansas marks the end of the regular season for Kansas State and forward Chantay Caron, a 2009 Free State High grad.
On the other, it's actually the beginning of something bigger.
For the first of what figures to be four times in her college career, Caron will return to the town in which she starred as a prep basketball and volleyball player and will take on the team she grew up with.
Fortunately, the 6-foot-1 forward is used to that.
"Oh yeah, definitely," she said. "Anywhere I'd go, people looked at me like I was crazy for wearing purple."
That's not the case anymore, nor was it really ever in the Caron house. At 6:30 tonight, when Caron and the Wildcats (19-9, 9-6 Big 12) take on Kansas (19-10, 6-9), there will be plenty of purple people on hand to support the former Firebird.
In the previous Sunflower Showdown, a 65-60 victory by KSU in Manhattan, Caron started and scored three points, but played just five minutes. She said she's hoping for more time on the floor this time around, particularly because this one figures to be played in front of even more friends and family members.
"Coming home, I mean, I'm excited, and I want to go in and have a good game," she said. "But, to me, it's really no different than any other game. It's just in my hometown."
One person who had hoped to be on hand is Free State High coach Bryan Duncan, who tutored Caron for three years. For Duncan, who watched former Firebird Ashli Hill return to town to play at Allen Fieldhouse earlier this season, the thought of seeing another of his former players on the big stage is a thrill. But Duncan will be in Olathe tonight, coaching the Firebirds in their sub-state championship game against Olathe South.
"Being a teacher and a coach, the proudest moment you can have is when your kids are no longer with you and you see them having success," he said. "You're like the proud papa. It's the next-closest thing to having your own kids."
If that's the case, Duncan has had plenty to be proud of this season. After committing to K-State as a sophomore at Free State, Caron never wavered in her desire to play for the Wildcats. While she improved during each season of her prep career, she kept her expectations in check for her first year of college ball. And then a funny thing happened. Caron became a starter.
"I'm pretty happy with the way my first year has gone," Caron said. "There was a lot that I wasn't expecting to happen. Like starting, for instance. I was expecting to be a role player and having a set role and going in to do that. I didn't expect to come in and just jump right in."
Although she has been a starter in the score book, she's also been thrust into the role of supporting actress. While playing in 24 games for KSU, Caron has made 10 starts and averaged three points and two rebounds per game in 12 minutes.
"Athletically and defensively, she definitely fits in and she can play with anybody," said Duncan, who not only has kept his eye on KSU box scores but also has gone to watch the 'Cats practice a couple of times. "I do think she's gotten better, and, as a role player, I think she can help them win."
Though Kansas is locked in to the No. 8 seed in next week's Big 12 tournament in Kansas City, Mo., the Jayhawks will be playing to regain some momentum after falling, 72-36, at Iowa State earlier this week. A victory would give the Jayhawks seven conference wins, the most in a single season under coach Bonnie Henrickson. It also could deal a blow to K-State's seed in the conference tourney. Kansas is 14-3 at home this season, and the Wildcats are 6-7 on the road.
KU seniors Krysten Boogaard and Marisha Brown will be playing their final game at Allen Fieldhouse.
Copyright 2018 The Lawrence Journal-World. All rights reserved. This material may not be published, broadcast, rewritten or redistributed. We strive to uphold our values for every story published.