Photo Gallery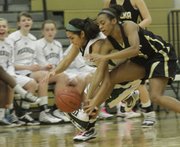 Free State girls vs. Topeka High
The stakes were much higher for the Free State High girls basketball team, but the grin on Kennedy Kirkpatrick's face remained the same.
Kirkpatrick, the easygoing, smooth shooting lefty, scored 11 of her career-high 32 points in the fourth quarter, helping the Firebirds hold off Topeka High, 65-56, in sub-state action on Thursday night at FSHS.
"I didn't really think I scored that many," a laughing Kirkpatrick said of her point total, which is second highest in school history on the girls side.
"She's turning into a really special player," FSHS coach Bryan Duncan said of his sophomore guard.
The fledgling Firebirds (11-10) will move on to the sub-state finals, where they'll face Olathe South at 7 p.m. Saturday at Olathe North High School.
To Duncan, 'youth' is too often used as an excuse — but the truth is, nearly all of FSHS's sophomore-laden roster didn't play on last year's team that advanced to the state tournament.
Now, they're only one win away from a return trip.
"I think that's what you want late in the year," Duncan said. "Is for your team to jell and really understand their responsibilities and their roles as you head into the playoffs."
Kirkpatrick called this season a "learning experience" for her and her teammates. If that's the case, the Firebirds are a pretty quick study.
Among FSHS's crop of sophomores, Courtney Hoag, Alexa Gaumer and Scout Wiebe combined for 18 points on 8-of-10 shooting off the bench.
Fellow sophomore Chelsea Casady tallied seven points and five rebounds.
Abbey Casady — though she missed her only shot — bumped and banged down low with Topeka's primary post-threat Daria Sprew all night.
An unglamorous task, perhaps, but she drew three charges and often visibly frustrated the Trojans best player.
"She's probably got to be the smallest post player around," Duncan said of the 5-foot-9 sophomore. "But she might be the toughest."
Abbey Casady takes pride in earning her bumps and bruises on the defensive end.
"That's my time to shine during the game," she said. "That's one of the parts (of my game) where I truly feel confident."
Junior Lynn Robinson — one of the few Firebirds who logged significant minutes last year — scored all six of her points late, but penetrated the lane and kicked it out to her teammates for open jumpers early on.
Robinson finished with a team-high seven assists and Kirkpatrick put in 14 to lead FSHS into the half with a 32-28 lead.
The Firebirds were ahead, often comfortably, for most of the night, but the Trojans, led by Sprew (22 points) in the low post, mounted several rallies.
FSHS's lead seemed most in jeopardy midway through the fourth quarter as Topeka cut the lead to 56-52, prompting Duncan to call a timeout to settle things down.
Not that it was totally necessary.
Kirkpatrick calmly drained a three-pointer, and after the two sides exchanged baskets, she coasted to the rim to put FSHS on top, 63-56, then iced the game with two free throws.
"We never seemed flustered," Duncan said. "We just kept attacking, kept playing, our body language never changed. And that's what good teams do."
Box score
Free State 65, Topeka High 56
TOPEKA (56)
Brittney Redmond 2-8 0-0 6, Brittany Harden 1-4 0-0 2, Jasmine Benning 6-7 1-2 13, Whitney Brooks 3-12 0-0 8, Daria Sprew 11-18 0-1 22, Brianna Madden 0-0 0-0 0, Krystal Corhn 2-4 1-2. Totals: 25-46 2-5 56
FREE STATE (65)
Abbey Casady 0-1 0-0 0, Jackie Garcia 1-2 0-0 2, Kennedy Kirkpatrick 11-20 7-8 32, Lynn Robinson 2-7 2-2 6, Chelsea Casady 3-5 1-2 7, Scout Wiebe 2-3 1-2 5, Courtney Hoag 3-3 0-0 6, Alexa Gaumer 3-4 0-0 7. Totals: 25-45 11-14 65
Topeka 11 17 14 14 — 56
FSHS 20 12 16 17 — 65
Three-point goals: Topeka 4-16 (Redmond 2, Brooks 2); Free State 4-12 (Kirkpatrick 3, Gaumer). Fouled out: None. Shooting: Topeka 25-46 (54-percent); Free State 25-45 (55.5-percent). Turnovers: Topeka 16, Free State 16.
Copyright 2018 The Lawrence Journal-World. All rights reserved. This material may not be published, broadcast, rewritten or redistributed. We strive to uphold our values for every story published.