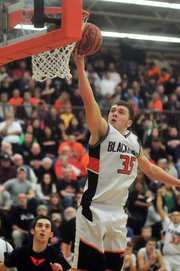 Fennville, Mich. — Wes Leonard, a high school star basketball player from Michigan who collapsed seconds after hitting a game-winning layup and was pronounced dead hours later, is from a longtime Baldwin City family, according to Baldwin City Superintendent Paul Dorathy.
The young man attended schools in Baldwin before the family moved between Leonard's sixth- and seventh-grade years. Dorathy confirmed with the Journal-World that Leonard's mother was a teacher in the Baldwin City school district and friends said his father had a model-airplane business.
Leonard of Fennville High died Thursday night, Holland Hospital spokeswoman Deb Patterson said. A cause of death has not yet been determined.
Paramedics performed CPR on the 16-year-old before he was pronounced dead at the hospital, Patterson said.
Leonard, a junior who also excelled as the quarterback of the Blackhawks football team, was "by far the best player on that basketball team — outstanding athlete," said coach Mike Miller, whose Bridgman team lost 57-55 to Fennville Thursday night.
"All of Bridgman's thoughts and prayers are going toward Fennville right now," Miller said.
Grief counselors were on hand at the high school on Friday, the Fennville School District said.
Leonard's mother, Jocelyn, is a choir teacher at the middle and high schools and is the director of Fennville High's production of "How to Succeed in Business Without Really Trying." A scheduled performance of the musical was canceled for Friday, and it's undecided whether there will be shows on Saturday and Sunday.
Chad VanHuis, a 21-year-old Fennville High graduate who once umpired Leonard's middle school baseball games and was his camp counselor, heard that Leonard had collapsed as he headed into work.
During his break around 1:30 a.m., VanHuis, an assembly line worker at an auto glass factory in nearby Holland, logged on to Facebook and learned of his friend's passing.
"I couldn't believe it," said VanHuis, who remembered opposing baseball coaches asking to see his birth certificate, not believing a 12-year-old could be so big and skilled.
"He was very courteous. He was the nicest kid. You'd think with his star potential, because he's so gifted, he'd be cocky, but he never really was that way."
On Thursday, Leonard, who earlier this season eclipsed the 1,000-point mark for his high school career, laid the ball in with less than 30 seconds remaining. Bridgman wasn't able to score during the ensuing trip down the court, giving Fennville a 20-0 season. Leonard fell to the ground after teammates and fans rushed the court.
Fennville Superintendent Dirk Weeldreyer remembered Leonard as "the quintessential all-American kid."
"He had a great grin and was always cheerful. Younger kids throughout the community looked up to him and idolized him," Weeldreyer said. "Wes was strong and powerful. As the quarterback of our championship football team, he could throw a dart 40 yards down the field. He had the body of a linebacker, but brought the ball up the floor for our 20-0 basketball team."
Leonard is the second Fennville athlete to die in 14 months.
Wrestler Nathaniel Hernandez, 14, died in January of last year after suffering a seizure at home following his participation in a high school wrestling match, The Holland Sentinel reported.
Fennville is about 200 miles west of Detroit.
Copyright 2018 The Associated Press. All rights reserved. This material may not be published, broadcast, rewritten or redistributed. We strive to uphold our values for every story published.