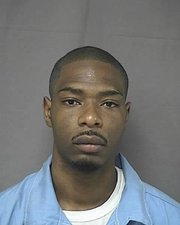 A 26-year-old Lawrence man who faces an April trial related to a December shooting at an apartment party, now faces charges for a separate Lawrence shooting and robbery from 2008.
According to Douglas County Jail records, officers on Tuesday afternoon served a warrant for aggravated robbery and aggravated battery charges on Dustin D. Walker, who was already in custody for an attempted second-degree murder charge for the 2010 shooting at South Pointe Apartments.
The new arrest warrant is related to an aggravated robbery and shooting investigation for an incident that occurred April 22, 2008. Sgt. Matt Sarna, a Lawrence police spokesman, said it occurred in the 2500 block of Redbud Lane.
According to news reports, a 20-year-old man was shot in the leg at an apartment complex, and witnesses reported seeing two men get into a car and leave the area. The victim later was released from the hospital after receiving treatment.
Walker has been in jail since December when he was accused of shooting 23-year-old Darrick Dew at a party on Dec. 5, 2010, at South Pointe Apartments, 2310 W. 26th St.
Before his arrest, Walker had been on parole since April 2010 for an aggravated battery conviction after he served one year and nine months in prison related to a June 15, 2008, domestic violence incident.
Copyright 2018 The Lawrence Journal-World. All rights reserved. This material may not be published, broadcast, rewritten or redistributed. We strive to uphold our values for every story published.