Lawrence police on Thursday arrested a 26-year-old man as the suspect in a shooting last weekend at a local apartment complex.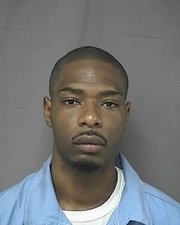 Officers took Lawrence resident Dustin D. Walker into custody without incident at 10:15 a.m. in the 1900 block of Haskell Avenue. The arrest came after detectives spent several days investigating who shot a 23-year-old Lawrence man who showed up at Lawrence Memorial Hospital early Sunday suffering from abdominal injuries.
"Detectives at this time continue to try and determine the events and circumstances that occurred leading up to the incident, and additional arrests are possible," said Sgt. Matt Sarna, a Lawrence police spokesman.
Douglas County District Attorney Charles Branson said prosecutors Wednesday night issued a warrant for Walker on charges of attempted second-degree murder and being a felon in possession of a firearm.
"He's been charged. We filed the case yesterday, and an arrest warrant was issued," Branson said.
The victim, a 23-year-old Lawrence man, was shot early Sunday morning at South Pointe Apartments, 2310 W. 26th St.
Earlier this week the shooting victim was in critical but stable condition at a Topeka hospital. Sarna said there was no update on the victim's condition but that he continued to recover at the hospital.
He said police encourage anyone with additional information about the case to call police at 785-832-7650 or Douglas County Crime Stoppers at 785-843-TIPS.
Walker has a past criminal history in Douglas County. According to Kansas Department of Corrections records, he hs been on parole since April 23 after serving a sentence for an aggravated battery conviction. He served one year and nine months in prison for the conviction related to a June 15, 2008, domestic violence incident.
Walker is expected to appear before a judge Friday afternoon on the charges related to Sunday's shooting. Jail records list Walker's bond at $350,000.
Copyright 2018 The Lawrence Journal-World. All rights reserved. This material may not be published, broadcast, rewritten or redistributed. We strive to uphold our values for every story published.