Audio Clips
De Soto mother Rachel Perez speaks with her father from the Johnson County Jail
Related document

Medical testimony transcript in the Rachel Perez child abuse case ( .PDF )
Photo Gallery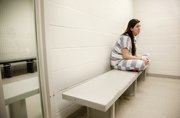 De Soto mother Rachel Perez convicted in shocking child abuse case
Photos of those involved in the Rachel Perez child abuse case. Perez is now serving a 102-month sentence after pleading guilty to child abuse and attempted second-degree murder for leaving her 6-year-old son in the attic of her home in De Soto last August.
Others involved in the case
The family: Two family members played prominent roles in Perez's case: Martin Foster, Perez's father, and Patricia Moran, Perez's grandmother. According to court testimony, Moran and Foster called police with concerns about the boy. Their alerting authorities led to Perez's arrest on a traffic warrant — and to the discovery of the boy in the attic. Foster spoke briefly at the sentencing hearing, saying, "What my daughter did was wrong. … But I do love her dearly." Foster declined an interview request, and Moran could not be reached for comment.
Social and Rehabilitation Services: Open records requests to SRS by the Journal-World for information about the agency's involvement in Perez's case were denied. Perez said she had been investigated for child abuse in 2009, but the complaint was not substantiated. It's not known if there were other complaints, or what interventions, if any, were made. Perez also said she was receiving state assistance up until 2009, but she said those benefits ended because of paperwork problems.
Stacey Eastwood: A relative of Perez's who in court identified herself as the current foster mother of the boy discovered in the attic and Perez's two daughters. Eastwood spoke at the sentencing hearing, detailing the abuse suffered by the boy and the girls. Eastwood declined an interview request for this story. Perez said she was "grateful" the children were in a good home and that they would "never want for anything." It is not clear who has custody of the child Perez gave birth to while in jail in January. The newborn was taken into state custody.
Experts discuss damaging effects of abuse
Nancy Kellogg, a Texas-based pediatrician who studies intentional starvation, said the condition and weight of Rachel Perez's son when found was one of the more severe cases of child starvation she's ever known. Read about the effects of child abuse on WellCommons.com.
On Aug. 17, 2010, Rachel Perez, 26, phoned her grandmother from the Johnson County Jail to say she'd been arrested on a traffic warrant. Perez asked about getting a lawyer and making bail.
When the De Soto woman called back a half-hour later, things had taken a dramatic turn.
Perez's father, Martin Foster, answered this time and unleashed an expletive-laced tirade. The angry, disappointed Foster couldn't believe what his daughter had done.
"We found him, Rachel, in your attic!" he yelled.
Perez denied it, saying she wasn't even tall enough to reach the attic.
"You will never convince me of that," Foster said. "You put a little baby in a (expletive) attic!"
"Oh my God," Perez said. "Oh my God."
"Why? Why?" Foster said. "Are you that ashamed of him?"
A 6-year-old boy with Down syndrome had been left starving in an attic, and now Perez's family knew.
'Heard a noise'
The condition of some of the small duplex homes on Center Drive in De Soto progressively deteriorate the farther you go down the street. Nice, well-kept homes with fresh paint turn into older buildings — some vacant — with flecked paint and worn roofs. Rachel Perez's former home is about halfway down the street.
About 2 p.m. on Aug. 17, Johnson County Sheriff's deputies went to that home following up on a call from Foster and Patricia Moran, Perez's grandmother. Moran called police with concerns about the welfare of Perez's son, the middle child, who had reportedly been left at home alone at times.
In the recorded jailhouse phone call, Foster hints at other forms of abuse they suspected in the home.
"I keep hearing these horror stories about this little boy who can't defend himself," Foster tells his daughter.
Deputies found Perez with her boyfriend, Jose Acosta, along with Perez's two daughters, ages 8 and 5. She told the deputies her son wasn't home — he was with his father, according to police testimony.
Armed with a traffic warrant, police arrested Perez, while Acosta took custody of her two daughters, who were then taken to relatives of Perez.
The home was empty, except for the boy in the attic.
For hours, Perez sat at the Johnson County Jail, calling family members and friends, trying to make bail. She insisted the boy wasn't at the home, and even told police there wasn't an attic in the house.
Patrol Sgt. Mark Rokusek was working the night shift and was one of several deputies to return to the home later that evening. About 11:15 p.m. Moran met them at Perez's home, determined to find the boy.
"She believed he was in the house," Rokusek said.
Moran persisted.
Deputies knocked on the door and checked the outside of the building, looking for a legally justifiable reason to enter the home. They heard a noise, and Rokusek made the decision to go inside.
They looked through an open window. The smell of urine and feces wafted out of the home. In photos taken of the house, little white dots — which prosecutors explain were maggots — can be seen in the boy's crib.
A deputy entered the home through the window. There were no signs of the boy.
Rokusek said they expected to find the boy hiding under a bed or in a closet — making it a routine child welfare check.
Then one of the deputies "heard a noise from the attic," Rokusek said.
The deputy reached up to the 2-by-2-foot access panel, which led to a small overhead space, or attic. There was one small ventilation screen in the attic.
Photos of the space show loose insulation, broken boards and rusty nails. The high temperature for the day was 80 degrees, but it was much warmer in the attic.
Deputies slid the access panel over.
"At that very moment, these two tiny feet plopped out of the hole and the little boy's head popped out," Rokusek said.
Deputies took the boy, weighing less than 20 pounds and covered in feces and urine, handed him to his grandmother, and called for an ambulance.
Rokusek recounts the day's events in a matter-of-fact, police-jargon technical way. That is, until he talks about the boy.
"I've always wondered what that little boy was thinking about when he sat in that attic by himself alone for seven, eight, nine hours; during the heat of the day, into the darkness of the night, all by himself," Rokusek said.
Charges
Prosecutors initially charged Perez, who was four months pregnant with her fourth child, with child abuse and child endangerment, allegations that could have sent her to prison for 41 months. Then they added attempted second-degree murder.
Chris Brown, a Johnson County assistant district attorney who prosecuted the case, said the charge matched the crime. Perez left the child in the attic and knew she wasn't getting out of jail until at least the next morning. By then, the boy could have been dead.
He was so malnourished that he couldn't walk, according to medical testimony from Dr. Lisa Spector, a pediatrician at Children's Mercy who treated the boy. Spector described the boy's lack of muscle tissue and body fat. The boy wouldn't have survived another 24 hours in that attic, she said.
"This is the worst case of child abuse that did not result in a child's death that I have ever seen," Brown said.
With a warning about their content, Brown showed several pictures — never released publicly — of the boy taken at the scene.
One of the photos shows the boy's rib cage and bones nearly piercing his skin, as he clutches to Moran.
Mixed in with the shocking pictures in the prosecution's case file is a studio portrait of the boy taken in March 2008. A healthy-looking 4-year-old smiles for the camera. Brown and Rasmussen also have another, more recent photo of the boy, taken just three months after he was found. This time, it's a plump 7-year-old smiling back.
'Everything will be OK'
Awaiting transfer to the Kansas Department of Corrections, Rachel Perez sat last week in a glaring white holding cell at Johnson County Jail, recounting to the Journal-World what happened the day she was arrested.
"Next thing I know, I hear 'bam, bam, bam,'" said Perez, who was at home with Acosta, her boyfriend, along with her son and two daughters.
She peeked out the window and saw two police cars. Perez knew a judge had issued a warrant for her arrest for unpaid traffic fines. She knew the drill. She'd been arrested before on a similar charge. She said she didn't want to put her kids through the trauma of seeing their mom arrested again.
Looking for places to hide, Perez slid a table over and picked up her son.
"I … put him up there because he's the lightest," said Perez about moving her son into the attic.
Then the table broke.
"I fell through," said Perez, who then used a broom to slide the hatch, covering the attic. She reassured the boy.
"Hold on baby, everything will be OK," she said.
Perez said she thought about running from police. She looked out an open window, and that's when a deputy, from outside, reached in and pinned her against the wall. Acosta let the police in, and they took Perez outside.
"Then they started asking me questions about (her son)," Perez said.
Police arrived at the home around 2 p.m., and Perez was taken into custody around 4 p.m. Until 11 p.m., Perez's son remained in the attic — as Perez denied he was there, saying the boy was with his father.
"Now they're asking about him and what am I going to say? 'He's in the attic at the moment,'" Perez said. "It was the stupidest thing I've ever done. I lost my life because I lied."
In the panic, Perez said the lie seemed the "most logical."
How did no one notice?
Jason Billam, Perez's court-appointed attorney, says the photo of a healthy boy is a clue that at one point Perez had taken adequate care of her special-needs son.
But as the boy got older, his needs exceeded Perez's ability to care for him, he said.
"She basically lied to herself about being able to take care of him," Billam said. "At times her behavior was reckless. At times her behavior was scary. (But) at no time was she trying to kill."
Starting out as a teenage mother, Perez said she did the best she could with limited resources. Days from being evicted from the house on Center Drive when arrested, Perez and her three children lived on the $674 monthly disability insurance payments she received from Social Security for her son. Boyfriends and the fathers of her children moved in and out of their lives, helping financially when they were around.
The family had been receiving food stamps and benefits from the state, but Perez said those were taken away in 2009. It's not clear why they were cut off, but Perez said it was a paperwork problem.
Times were tough, and money was tight. But Perez insists there wasn't any abuse.
She says the boy never was in the attic before that August day, though prosecutors say it was a typical place for Perez to put the boy.
Perez, however, admits to neglecting her children, and acknowledges her home was "trashed."
She didn't take her son to the doctor, didn't keep the house clean, didn't tell the truth about where he was. For that, Perez said, she'll be punished for the rest of her life. She's sorry that "all this happened."
The apology didn't extend to her son's poor condition; in Perez's eyes, that wasn't a problem.
"(Him) being little bitty skinny was not unusual," Perez said. "He wouldn't grow."
As the boy's physical condition deteriorated over those one and a half years, Perez began hiding the child for fear that protective services would get involved if anyone saw him, Billam explained at sentencing. The boy wasn't enrolled in school, and Perez moved around a lot.
It's unclear how much interaction the boy had with the outside world. People in her neighborhood and at the De Soto library — where Perez frequently took her two daughters — reported seeing Perez out with her girls, but not the boy.
Perez and Billam say that Social and Rehabilitation Services, or SRS — the state agency that investigates child abuse and neglect — had investigated Perez's family. But it's not clear what role SRS played in the Perez case.
SRS, citing exemptions in the Kansas open records laws for child welfare cases, denied the Journal-World's request for records related to investigations of Perez and her children.
Prosecutors also were unable to comment on SRS' involvement in the case, citing confidentiality agreements mandated in child abuse cases.
Perez said any complaints that were made were not substantiated, and SRS took no action. The complaints, according to Perez, were made in 2009, at a time that her son may have been at a normal weight.
It was the suspicions of family members that caught up with Perez. Prosecutors credit those family members with saving the boy's life.
SRS relies on concerns from family and community members in abuse and neglect cases, said Gina Meier-Hummel, director of children and family services for SRS.
In 2010, SRS received more than 55,000 reports of child abuse or neglect. Those calls are screened by 24-hour staff, and a determination is made regarding follow-up. Last year, 64 percent of those initial reports led to an in-person follow-up by workers — which must be done within 72 hours. The interventions in such cases range from parent education to removal of children from the home.
Meier-Hummel — who could not speak specifically about the Perez case — stressed that there is no reason not to call SRS when something appears wrong with a child, whether it's an abuse or malnutrition case. Reports can be made anonymously to SRS' round-the-clock hot line, 1-800-922-5330.
"We have a responsibility as citizens" to report, she said.
Court case
In Perez's case, a phone call saved her son from what prosecutors contend was ongoing torture.
At a court hearing in February, testimony centered on the life of the boy who wasn't a "picky eater," despite what Perez's attorney contended. Food was withheld when the child acted out, Brown said. It was a systematic, prolonged starvation.
And it wasn't the first time the boy had been in the attic; it was routine, Brown said. The prosecution's theory was bolstered by video testimony from Perez's two daughters — interviewed by specialists at Sunflower House, an interviewing and assessment center for abused and neglected children in Shawnee.
"He was banished, so to speak, from the family," Brown said. "It went beyond child abuse. I would definitely call it torture."
After that hearing, Billam said there was no way he would put Perez in front of a jury. If convicted, jurors would have the option to depart from the sentencing guidelines and recommend that the judge double Perez's sentence.
Perez and Billam decided to plead guilty to the child abuse and endangerment charges and no contest to the attempted second-degree murder charge. It'd be up to the judge, and not a jury, to determine how much time Perez would spend in prison.
At sentencing, Perez told her story to Johnson County District Judge Peter Ruddick. In her panic, she said, she put her son in the attic and thought she'd be out of jail in hours. She'd return and let the boy out.
Ruddick sat stoically through the May 26 sentencing hearing. He listened to Perez's story, her statements of remorse and tears.
He'd heard the prosecution's theory and the medical testimony detailing the boy's starvation.
He'd listened to Perez, in one of those jailhouse telephone calls, deny her son was in the attic.
And during the hourlong hearing, he had those pictures of Perez's emaciated son in front of him.
Ruddick called Perez's actions "unfathomable" and sentenced her to the maximum amount for each count. In total, 102 months in prison.
'Doing great'
Recent photos of the boy refute Perez's contention that he "wouldn't grow," Brown said. The boy is now "doing great." He's gained weight and can walk.
Prosecutors couldn't confirm what happened to Perez's children, but Stacey Eastwood, a relative of Perez's who declined an interview request, spoke at sentencing and identified herself as the foster parent of Perez's three children. The whereabouts of Perez's fourth child, the one she gave birth to in January, while she was in jail, remain unknown. The child was taken into state custody after birth.
Eastwood, who asked Ruddick to give Perez the maximum sentence, detailed the struggles she faces helping all three children recover from their abuse. The two daughters suffer from guilt and Post Traumatic Stress Disorder, she said.
"We try to help them heal from their past but we can't know what they (Perez's three children) went through," Eastwood said. "We live their past with them."
When asked about reuniting with her children, Perez tears up. If she gets early parole, her oldest child would be 16 when Perez gets out of prison. She hasn't seen her children since her arrest last August. She does send letters, unsure if her children receive them.
"I'd like to be able to move on and know my children are going to find me," Perez said. "I know my kids aren't going to forget me. They know in their hearts mommy loves them."
Copyright 2018 The Lawrence Journal-World. All rights reserved. This material may not be published, broadcast, rewritten or redistributed. We strive to uphold our values for every story published.