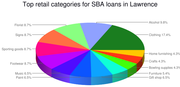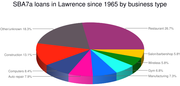 When Eangee Inc. co-owner Chris Godfrey and his business partners wanted to expand their downtown home furnishing store into a wholesale distributor, they needed money.
"We were desperate to get inventory in," said Godfrey. But as a small business, they didn't have the capital.
That's when Godfrey received help from an SBA 7(a) loan through the U.S. Small Business Administration. The $137,000 loan helped Eangee expand into a warehouse at 1380 N. Third St. in North Lawrence, where the company now ships specialty, eco-friendly lamps and other home goods across the country.
Eangee was able to pay the loan back, and Godfrey said his business has been expanding.
"Without the loan, we wouldn't be where we are today," he said.
Since the 1960s, SBA loans have helped hundreds of Lawrence businesses start up or expand — everything from quirky downtown retailers to high-tech software companies.
"I can drive down any street in Lawrence and see at least one business that wouldn't be there without an SBA loan," said Tim Metz, vice president of loan services at Douglas County Bank.
SBA loans work like this: A business applies for a loan from a bank. If the business lacks investors or startup capital, the bank can help the business apply for an SBA loan, which is administered by the bank. The SBA offers a guarantee for the bank by agreeing to pay back 50 to 90 percent of a loan if the recipient defaults. Metz said the program "mitigates risk" for lenders and helps some businesses get loans they may not have been able to secure otherwise.
But it's a stringent process, Metz said, and the percentage of funding that is paid back shows the program is selective in the businesses it takes a bet on.
Between 1965 and September 2010, Lawrence businesses have secured 540 SBA 7(a) loans. More than $50 million has been backed by the SBA guarantee, and more than 95 percent of the loans have been paid back by businesses.
That compares well with standard business loans, Metz said, adding that his bank strives to keep its "payback" rate between 95 and 97 percent.
The statewide SBA loan data shows Lawrence outpaces the state when it comes to repaying the loans. Of the more than 22,000 SBA 7(a) loans given statewide since 1957, less than 93 percent of the loans have been repaid, compared with the 95 percent rate locally. The SBA wasn't able to provide national data for payback rate, as the SBA calculates the statistics differently.
Despite the recession, funding for SBA 7(a) loans — appropriated by Congress — is available for those who can pass lenders' scrutiny, said Neida Heusinkvelt, assistant district director for the SBA's Kansas City District office.
Heusinkvelt said the majority of such loans go to businesses looking to expand, such as Eangee, but some go to startups, such as the downtown shoe boutique Foxtrot, 823 Mass., which opened last October.
The success of SBA loans in Lawrence shows the area provides a good atmosphere for startups and expanding businesses looking to utilize SBA 7(a) loans, she said.
For more information about the SBA loan program, visit sba.gov. Consulting assistance for new businesses is also available from the KU Small Business Development Center. For more information, visit its website at bit.ly/itSrAP.
Copyright 2018 The Lawrence Journal-World. All rights reserved. This material may not be published, broadcast, rewritten or redistributed. We strive to uphold our values for every story published.