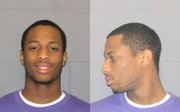 A Douglas County judge on Tuesday morning sentenced a 22-year-old Topeka man to 17 years in prison for a 2009 robbery of a Lawrence convenience store.
"The departure evidence shows a man who is immature, but it also shows that he committed three identical crimes to three separate persons for the purpose of obtaining money," District Judge Michael Malone said.
Malone denied Sedryck Welch's request for a seven-year sentence, but he allowed him to serve the 17 years at the same time that he's serving nearly five years for robbery convictions in Shawnee County.
A jury in January convicted Welch of aggravated robbery after prosecutors accused him of using a shotgun to rob a clerk on Aug. 3, 2009, at Conoco, 2447 W. Sixth St. Lawrence police had released surveillance photos in the case and later received an anonymous tip to the Crime Stoppers hot line that helped lead to Welch's arrest.
Welch has already been sentenced to serve 59 months in prison after he pleaded guilty to two counts of aggravated robbery in Shawnee County related to a 2009 robbery of two people at a Topeka convenience store.
For the Douglas County conviction, under state sentencing guidelines Welch faced 17 to 19 years in prison. His attorney, Sarah Swain, and family members asked Malone to give him a lesser prison sentence, mainly based on his age and testimony from a psychologist who said Welch had a low IQ and did not meet the profile of a career criminal.
Welch said he would accept Malone's punishment. He will get credit for already serving more than one year in the Douglas County Jail.
"I'm willing to make good choices," he said "And I'm willing to surround myself with positive people."
Swain asked for an 84-month prison sentence to run concurrently with his Shawnee County sentence and said the Topeka and Lawrence crimes were committed over a short period of time.
Swain said no one was hurt in the robberies but that he still deserved to be punished because a firearm was used.
"This is not a kid who exhibits pro-criminal behavior," Swain said. "This is a young, immature guy who is low-functioning, who can barely read or write, whose means of getting attention was at times these types of things."
During the January trial Douglas County prosecutors presented surveillance photos of a man with a gun that night, and the clerk and two other witnesses who knew Welch in 2009 testified and said they believed he was the man in the video.
Prosecutors asked Malone to sentence him to 18 years in prison after serving five years for his Shawnee County conviction.
They questioned how Welch presented himself to the psychologist and submitted testimony earlier this month of a jailer who said Welch talked to him about a possible escape from the Douglas County Jail earlier this year. Welch denied that he mentioned that to the jailer when he testified at a prior hearing and accused another inmate of trying to use him.
"In some ways the departure gives him an incentive to reaffirm for himself that he's not really as responsible as the law says he is for what he did," Assistant District Attorney James McCabria said while asking Malone to deny Swain's request.
Copyright 2018 The Lawrence Journal-World. All rights reserved. This material may not be published, broadcast, rewritten or redistributed. We strive to uphold our values for every story published.