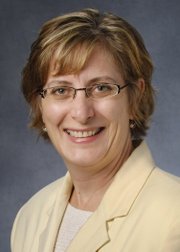 Kansas University hired its dean of graduate studies as its next senior vice provost for academic affairs.
Sara Rosen had been serving as dean of graduate studies since 2007.
"Sara has a proven record of advancing KU's mission of teaching, research and service to the state of Kansas," said KU Provost Jeff Vitter in a statement. "Her experience as dean of graduate studies and her background as a professor and department chair make her an ideal candidate to lead major academic initiatives here at KU."
KU's search to fill the position was limited to internal candidates. Rosen will be paid $200,000 per year in her new role.
"What really excited me about the position is where KU is right now in the midst of the strategic planning process," Rosen said.
She said that the plan will cover all kinds of efforts, from new general education requirements to how to fund doctoral education.
"I hope to be able to help the provost bring his vision to fruition with the strategic plan," Rosen said.
A search for the dean of graduate studies will begin shortly, and Joshua Rosenbloom, associate vice chancellor for research, will serve as interim dean of graduate studies until the search is completed.
Rosen replaces Barbara Romzek, who has served as interim vice provost for academic affairs since August 2009. Romzek will remain on the faculty as a professor in the department of public administration.
Rosen joined KU in 1991 as an assistant professor of linguistics and served as department chair from 2000 to 2007, when she became dean of graduate studies.
Copyright 2018 The Lawrence Journal-World. All rights reserved. This material may not be published, broadcast, rewritten or redistributed. We strive to uphold our values for every story published.