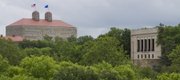 Subscribe to the email edition of Heard on the Hill and we'll deliver you the latest KU news and notes every weekday at noon.
Your daily dose of news, notes and links from around Kansas University.
• KU's new business dean isn't yet officially on the job, but she's already lining up some key leadership positions.
Neeli Bendapudi chose a member of the KU faculty to become the school's new associate dean, replacing Keith Chauvin, who will be returning to the faculty after 11 years as associate dean.
Douglas Houston, who had been serving as director of the finance, economics and decision services area of the school, will join Bendapudi when she officially takes over as dean on Aug. 1.
Houston joined the KU faculty in 1981, and has helped with developing the master's degree program in supply chain management in partnership with the U.S. Army Command and General Staff College at Fort Leavenworth.
• KU's Panhellenic Association, the governing body for KU's 13 sororities, has a blog that I recently discovered.
Its most recent post details a visit to the Novak Institute for Hazing Prevention at Lehigh University in Pennsylvania.
It also mentions a website and accompanying anti-hazing initiative at KU that you can peruse at preventhazing.ku.edu. There's a way to report hazing on that site, too.
KU saw the issue flare up as recently as last fall, when it placed Phi Gamma Delta fraternity on probation for two years after hazing was discovered at a party that saw freshman Matt Fritzie injure himself while diving into a shallow pool. The injury left him paralyzed.
It's a tough issue to overcome, so it will be interesting to continue to monitor if KU's initiatives have any effect on the behavior.
• In the "Jayhawks are everywhere" category, a KU journalism student has landed a pretty spiffy internship.
Andrew Joseph is working with the British-based ESPN America. The station focuses on American and Canadian sports for a European audience. You can check out his most recent article here.
• I didn't get any European internships when I was at KU's journalism school, but I hope I'm still cool enough that you'll send me some tips for Heard on the Hill at ahyland@ljworld.com.
Copyright 2018 The Lawrence Journal-World. All rights reserved. This material may not be published, broadcast, rewritten or redistributed. We strive to uphold our values for every story published.