Photo Gallery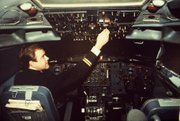 Nelson Krueger and his time with Shepherd I
Nelson Krueger, Lawrence resident, was on the flight crew for Shepherd I, Pope John Paul II's aircraft for his first visit to the United States in 1979.
Nelson Krueger of Lawrence will join a select club of aviators Saturday when he is inducted into the International Forest of Friendship.
Having his name added to a granite plaque in the memorial park in Atchison, the hometown of Amelia Earhart, crowns Krueger's long career as a pilot, engineer and flight instructor. Nearby will be the names of Earhart, Charles Lindbergh, Kansan astronaut Ronald Evans and Scott Crossfield, a test pilot and Krueger's boyhood hero.
"I can't even imagine being in such company," he said.
A native of Natoma, Kan., Krueger, 63, was the youngest pilot for Trans World Airlines at age 21. He later trained TWA's first female pilots, one of the reasons why the Kansas City and Topeka chapters of The Ninety-Nines, an organization for female pilots, nominated him for induction into the IFOF.
The memorial was established in 1976 by the city of Atchison, The Ninety-Nines and the Kansas University Forestry Extension.
"It means so much to me to be recognized by other pilots," Krueger said. "It's certainly the highest aviation distinction I ever intend to achieve. I never expected this."
He has been a flight instructor at the Lawrence Municipal Airport since 1967, training hundreds of students.
He says his biggest thrill came in 1979 when he co-piloted Shepherd One, the plane that took Pope John Paul II on his first trip across the United States.
Later, Krueger helped fly troops to Iraq during the Gulf War for the Civil Reserve Air Fleet. He also served as an aide to U.S. Sen. Bob Dole and was appointed by President Reagan to be a labor representative for 11 states.
Copyright 2018 The Lawrence Journal-World. All rights reserved. This material may not be published, broadcast, rewritten or redistributed. We strive to uphold our values for every story published.