Photo Gallery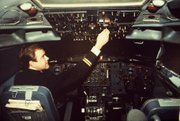 Nelson Krueger and his time with Shepherd I
Nelson Krueger, Lawrence resident, was on the flight crew for Shepherd I, Pope John Paul II's aircraft for his first visit to the United States in 1979.
1979 trip memorable for many
Pope John Paul II's visit to the United States in 1979 was historic. Two Lawrence residents recall the moment.
Karen Pendleton, co-owner of Pendleton's Country Market
Pendleton was working in Lincoln, Neb., when Pope John Paul II landed in Des Moines, Iowa. Her parents were making the drive up from Iola, and her sister was traveling from Manhattan. Pendleton couldn't make the trip because she had no vacation time at her new job.
Pendleton's boss let her work in his office for three days so she could watch the ceremonies on television.
Despite not being there to see the pope, Pendleton was inspired.
"The fact that he came to the heartland and being in the ag community, I think that meant so much to people in agriculture," she said. "The Midwesterners really appreciated it."
Joe Flannery, president of Weaver's
Flannery's brother, Bob, was an ordained Catholic priest when Pope John Paul II visited. Bob traveled to Chicago to see the pope in Grant Park.
Flannery, then 28, recalled the visit being dramatic because of the pope's status as a world leader of peace.
"It just reaffirmed my faith in Catholicism and how much it's meant in my life," Flannery said. "He was so well-loved."
Nelson Krueger was passing time in his hotel room in St. Louis that September in 1979. He was on a layover while working his job for Trans World Airlines, or TWA. Then the phone rang.
Little did Krueger know, the phone call would lead to what he calls "a treasured experienced and the privilege of my lifetime."
Krueger, now 63, had been chosen to be on the flight crew for Shepherd I, the airplane that carried Pope John Paul II on his first trip to the United States.
Krueger was joining about 60 others who crewed this plane and two others for a six-day trip, during which the pope gave 67 speeches to more than 5 million people.
On May 1, John Paul II is set to be beatified, the last step before being canonized as a saint.
With the honor coming only six years after the pope's death, it's one of the shortest tracks to sainthood in recent memory. Krueger said the honor is deserved.
"If there ever is an appropriate term for somebody being a saint, it would be John Paul II," he said.
Preparation
Krueger, of Lawrence, was hired by TWA at age 21, the company's youngest pilot at the time. He instructed pilots on the 727 and did some test flying.
He was 32 when he joined Sal Fallucco, a Roman Catholic and captain of the flight, and Clarence Powell as the third pilot and flight engineer on the crew.
He found the pope to be friendly, down-to-earth and intelligent.
"The six days we were together were so exhilarating," he said. "It's changed my life. I hope that I was somewhat sensitive before, but it gave me eyes that see. I'm far more aware of noticing a human need and remembering the needs of others than I ever was before this experience."
Boston
Krueger's first encounter with the pope was as unexpected as it was damp. Rain swamped Boston, and as the flight crew waited for the pope's party to board the aircraft, a man entered the cockpit.
"I don't know how, or if, I was expecting to meet the pope, but seeing him standing there, face-to-face, wet, in the cockpit, left me dumbfounded," Krueger said.
The pope was dripping wet in his cape, but he gave Krueger a hug, remarking how young Krueger was.
Krueger could only respond, "You are so wet," and offered his crew coat hanger for the pope's cape so it could dry on the way to New York City.
The pope exhibited this relatability throughout the trip.
"When we arrived at each destination as he deplaned, he would stop and look into the cockpit, posing with downward extended arms with palms up looking quizzically, as if to say, 'How do I look?'" Krueger said. "He made us feel a part of his journey."
New York City
While at St. Patrick's Cathedral, the pope showed once again how he cared for all people. A young priest was tasked with carrying a heavy light to illuminate the pope's way along a carpet. The pope left his path just to wipe the priest's brow with a handkerchief, something no one else had done.
"You could have heard a pin drop," Krueger said.
Later, on the plane out, the Secret Service agents along on the trip advised them of a bomb threat on the plane. Fallucco considered it a hoax, but the threat would hold up the trip at each stop.
Philadelphia
The pope's departure was delayed from the city while drug-sniffing dogs checked all the luggage, including the flight crew's. Krueger had brought along his guitar because he'd heard the pope liked to play. During the break, the pope pulled out the 12-string guitar and started singing "Silent Night" in his native language, Polish.
"It was a holy moment. All was calm for just a moment," Krueger said.
After the song, the pope noticed Krueger's TWA sticker on the guitar.
"He said, 'TWA means traveling with angels,'" Krueger recalled.
Des Moines, Iowa
The original travel plan deviated when the pope decided only weeks before his trip that he wanted to visit Living History Farms in Iowa. The state closed 50 miles of interstate to use for parking, and 400,000 people showed up for Mass. A stop that was supposed to take two hours ended up taking six.
"He was magnetic — far and away the most charismatic person that I have ever met," Krueger said. "I thought he was going to try to say hello and touch every one of them, and he would have."
Chicago
After a night landing in Chicago, the Mass the next day in Grant Park was one of the largest gatherings in Chicago's history.
"I've never seen anything even close," Krueger said.
More than a million people filed into the park after John Paul II and his 350 bishops.
"When asked what was so special about this pope, the people waiting for just the thrill to catch a glimpse of him said, 'He's the people's pope, a simple priest, he's one of us,'" Krueger said.
Washington, D.C.
On the last leg of the trip, the pope made his longest visit to the cockpit, sitting on the jump seat signing family Bibles and blessing special items. He listened to the radio on the speaker and gave tokens of appreciation to the crew.
Once they arrived in Washington, the crew took pictures with the pope and then flew the planes back to Kansas City to change them back to regular passenger airliners.
It was back to business as usual, but the effect of the trip has never worn off Krueger.
"I'm certain that it's taken 32 years for it to sink in," Krueger said. "I am just now beginning to realize and appreciate what a tremendous experience that was."
Copyright 2018 The Lawrence Journal-World. All rights reserved. This material may not be published, broadcast, rewritten or redistributed. We strive to uphold our values for every story published.