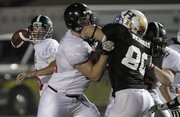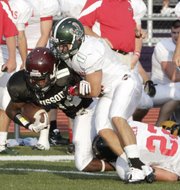 Belton, Mo. — Over the course of their careers at Free State High, Justin McCandless, Dylan Perry and Preston Schenck learned to hate the best players on their Sunflower League opponents.
After being selected to the Kansas all-star team for the Mo-Kan All-Star Game, the three were forced to confront some of their rivals for 10 days of practice.
"The first day or two, everyone was kind of shy and awkward," Schenck said. "We were just like, 'I remember that kid. I hated having to go up against him.'"
Even though Kansas lost to Missouri, 21-13, in Thursday night's game at Belton High, all three left with new friends and grins on their faces.
When McCandless, Perry and Schenck — all set to play for Baker University this fall — met their adversaries from the high school season, they found out that the bad guys weren't all that bad.
"Once you get time to actually get to know them, they're all really good people," Perry said.
All three were honored to be selected.
McCandless played right guard for the entire game. Perry rotated in as the quarterback. As the free safety, Schenck roamed the secondary. He also helped on special teams.
Perry had a chance to lead Kansas to a potentially game-tying score. Kansas was down 21-13 with six minutes left in the fourth quarter and had the ball on the Missouri 40.
On first and second down, Perry hit his intended receiver in the hands, but the ball tumbled to the turf. Blue Valley's PJ DeBey caught Perry's throw on third down, but the referee ruled DeBey out of bounds.
Kansas was forced to punt, and Missouri effectively drained the clock, securing the victory.
Perry said he felt a little pressure.
"The cool thing about this game is that it really didn't matter too much," Perry said. "It was really about just having fun. And I think that's what everybody did for the most part."
Perry finished 3-for-8 with 13 yards through the air and picked up 11 yards on the ground.
Schenck recorded a couple of nice tackles — one saving a likely touchdown. McCandless opened up holes on the line for Kansas' talented running backs to scoot through.
The game allowed the players to reestablish their football mind-set. They've been working out at Free State in preparation for their season at Baker, but strapping on the pads and playing under the lights made them excited for practice, which starts Aug. 12.
"It's coming fast," Schenck said.
After the players turn in their borrowed Free State helmets, they will have officially moved on from their high school careers.
"It's going to be a little weird," McCandless said.
Other area players showcased were De Soto's Jeff Bowen, Mill Valley's Kyle Brunson and Baldwin's Jesse Austin. Free State assistant Mike Gillman was on the Kansas coaching staff.
Copyright 2018 The Lawrence Journal-World. All rights reserved. This material may not be published, broadcast, rewritten or redistributed. We strive to uphold our values for every story published.