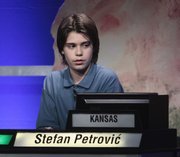 On TV
Lawrence's Stefan Petrovic is among 10 youngsters featured during this week's TV coverage of last month's National Geographic Bee in Washington, D.C.
The event's final two episodes are being shown at 5:30 p.m. tonight and Thursday on the National Geographic Channel.
Petrovic, who will be in eighth grade at South Middle School, finishes third in the bee after answering questions posed by "Jeopardy!" host Alex Trebek and, by video, Secretary of State Hillary Rodham Clinton.
First winning in Kansas. Then placing at nationals.
Next up: Conquering the world.
Stefan Petrovic, an eighth-grader-to-be at South Middle School, is headed to next month's National Geographic World Championship, the 10th edition of a biannual competition that pits teams from more than a dozen countries against one another.
Petrovic made the three-member U.S. team after finishing third in last month's National Geographic Bee in Washington, D.C. He had placed fourth last year at the national event.
He and his teammates — Pranav Bhandarkar, of Georgia, and Anthony Cheng, of Utah — already have been meeting via Skype to take practice tests, chart strategies and even brush up on foreign languages in preparation for the competition that will feature "Jeopardy!" host Alex Trebek as moderator.
"We really want to go for the gold," Petrovic said. "We're really hopeful."
The international competition will take place July 24-27 in various locations in the Bay Area, starting with an hourlong 70-question written test covering various aspects of geography, history and culture. The finals will be at Google's world headquarters in Mountain View, Calif.
Other teams are expected from Australia, Brazil, Bulgaria, Canada, China, Chinese Taipei, Czech Republic, Germany, Ghana, Hungary, India, Mexico, Nigeria, Poland, Russia, Singapore, Slovakia and the United Kingdom. Two years ago, the U.S. team finished second to Canada in Mexico City.
"We're the American team, and this is in San Francisco," Petrovic said. "All the other teams are coming from all corners of the world to compete against us. There's added pressure for the U.S. team to handle it. We want to really do well and hopefully win."
Copyright 2018 The Lawrence Journal-World. All rights reserved. This material may not be published, broadcast, rewritten or redistributed. We strive to uphold our values for every story published.