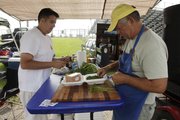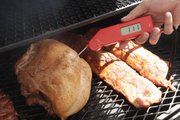 Starter rub
Tim Flory shares his simple starter recipe for those who want to make their own rub:
Mix equal parts sugar and salt.

Add your spices, using a light hand to start. Suggested spices include paprika, chili powder, cayenne and pepper.

Add it to your meat like a store-bought rub.
Flory also notes that if you want more Kansas City-style barbecue, to make sure you have more sugar than anything else.
Last year, Tim Flory's Father's Day gift was all about the grill. Though, to an outsider, it might seem that Flory's family was trying to get him a better cup of joe.
"I got a coffee grinder," says Flory, a member of the Lawrence-based barbecue team Crimson & Blue BBQ Crew. "I don't drink coffee; all I use it for is spices.
"I make all of my own rubs."
Yes, for the dad who likes to grill, a treasure trove of Father's Day ideas can be found in the tips and tricks of the pros. Sure, you could get him a great smoker — Flory recommends a smoker in the $400 range — but if you want to keep things cheap, or if dad already has a cooker, you're not out of luck.
We talked with area barbecue competitors about what meat-minded gifts are perfect for dad on his special day.
Grill-worthy gifts for Dad
Digital meat thermometer. All of our experts named this as the best gift, and many of them won't set you back more than a nice tie or slippers or any other generic dad gift. Or, you can go high-end and get the kind that allow for remote control temperature reading.
"The problem with analog, the old dial type, is that they take too long to get to temp. Your smoker is going to be open for longer. So, we use quick-read," Flory says. "You can buy a good one for $25."
Utensils/knives/tools. You can never have too many pairs of tongs, too sharp a knife or too big a collection of personalized grilling textiles like aprons and table cloths.
"For contests, we really like personalized shirts," says John Humphrey of Smoke-N-Things out of Lawrence. "Tablecloths, aprons with our own name on there."
Other suggestions include a good grill basket for chicken, a nice heavy-duty grill-cleaning brush and a LED light to put on the grill once the days become shorter.
Karen Glotzbach of KB's Smokehouse says that quality counts, even with the little things, though she starts with getting a cast-metal grate for your grill if it doesn't have one already.
"I just think a good-quality grill, not just a cheap one or whatever and then the bristle brush and good utensils," she says before rattling off helpful accessories. "Grill covers, side table, good cooler to keep your beverages cold. If you grill at night, they've got the clip-on lamps that go onto your grill."
A note on the cooler: Be sure to get a heavy duty one that can not only keep drinks chilled, but also double as grill-side seating.
Coffee grinder and industrial cookie sheets. Yes, they might seem a bit strange to throw into a grilling list, but they both are invaluable to the serious griller (or the guy who wants to be). The coffee grinder for the aforementioned reasons Flory got one for Father's Day, and the cookie sheet because, as Eudora's Beau Winfrey says, it can help keep things clean.
"A key trick that makes my wife extremely happy is we went and bought a commercial cookie sheet that is about 2 1/2 feet," says Winfrey, whose High Octane BBQ team won this year's Seratoma 48 BBQ Cookoff at Broken Arrow Park. "It's big enough to hold three racks of ribs, but I can season my meat on that and not get spices all over the counter."
Award-winning rubs and sauces. One way to learn from the best is to buy their stuff. That way you can know not only what wins, but narrow down what mixtures you like and don't like. That way, when you do start grinding your own, you don't make a bunch of costly, pungent mistakes.
"You can go right down to Hy-Vee and buy 4 Men & a Pig barbecue sauce," says Flory, who also recommends rubs branded by Kansas City Barbecue Society teams. "It's wonderful, very versatile, you can use it on brisket, pork, chicken."
Schooling. If dad is really serious about barbecue, Winfrey suggests buying him into a barbecue judging class through the Kansas City Barbecue Society.
"If they're really, really into barbecue, what they can do is they can sign their father up for a barbecue judging class," Winfrey says. "Most people who are competitors have gone through that class because it's beneficial to know what they're looking for and it kind of teaches you what good barbecue is."
If that's not plausible, Humphrey says dad can never have enough cookbooks in his arsenal.
Heat-resistant gloves. If you're going to be handling hot food, whether it be the from the grill, the smoker, or the oven, these are a must. Make sure to get manly ones.
"We use those more than anything, probably, to handle the meat — getting it on and off, wrapped in foil and things like that," Flory says. "Makes things a lot easier."
Copyright 2018 The Lawrence Journal-World. All rights reserved. This material may not be published, broadcast, rewritten or redistributed. We strive to uphold our values for every story published.