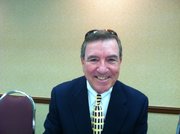 The chief executive of the Kansas Turnpike Authority on Monday discussed decreased roadway travel, ongoing bridge replacement, a six-lane Interstate 70 and a range of other topics at a Lawrence Rotary Club meeting Monday.
Michael Johnston, a former state legislator who today serves as the turnpike's president and CEO, said most Kansans probably don't know a lot about the KTA.
It's not part of the Kansas Department of Transportation, and its headquarters are in Wichita and not Topeka, Johnston said. It also is self-supporting and operates without tax support from the state or federal government.
"We don't do anything special," he said. "We operate a toll road, and that's all we do."
Some of the topics discussed:
• Travel, budget woes: Travel on the turnpike fell after major events like the 9/11 terrorist attacks and Hurricane Katrina, Johnston said.
"All of our businesses are at the mercy of random events in the world that we can neither control or prevent," he said.
The turnpike has trimmed its operating staff by about 15 percent, he said, and commercial business has fallen 10 percent since 2008. Today, the turnpike's operating budget is about what it was in 2007, Johnston said.
"We're just kind of bouncing along at those levels," he said.
• Bridge replacement costs: Johnston said the bridge work over the Kansas River near Lawrence cost about $130 million. He said that's nearly the cost for the construction of the entire turnpike itself, which was built in just 21 months from 1954 to 1956.
"You can't build a sidewalk today in 21 months," he said.
• Six-lane roadways: Johnston was asked if there are any plans to expand the turnpike to six lanes between Lawrence and Kansas City.
"No," he answered, adding that if the turnpike authority knew 10 years ago what it knows now about traffic usage, it probably would not have expanded the road to six lanes between Lawrence and Topeka.
• Concrete barriers: A Rotarian asked about Johnston's opinion of the effectiveness of the concrete barriers that divide the highways.
"We estimate that it saves 10 to 12 lives a year," he said, adding that those were rough estimates because it is hard to account for other factors that have also increased safety.
Copyright 2018 The Lawrence Journal-World. All rights reserved. This material may not be published, broadcast, rewritten or redistributed. We strive to uphold our values for every story published.