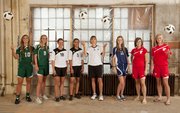 Girls soccer All-Area first team: Kylee Loneker, Free State; Margaux Gill, Free State; Annie Libeer, Free State; Sarah Stuever, Lawrence High; Hauna Payne, Ottawa; Cydney Lewis, Ottawa; Hayley Rideout, Ottawa; Lexi Brady, Seabury Academy; Alex Bartels, Tonganoxie; Ashley Kotowske, Tonganoxie.
Girls soccer player of the year: Ottawa sophomore Cydney Lewis
Lewis, a forward, scored 16 goals to go along with one assist for the Cyclones this season. She was voted the team's Offensive Player of the Year. Lewis scored multiple goals in a single game three times this season.
Girls soccer coach of the year: Kelly Smith, Ottawa
The Cyclones went only 5-11 during the regular season, but Smith led Otttawa to a regional championship this season in the Class 4-3-2-1A state playoffs. The Cyclones, who finished with a 7-12 final record, eventually fell in the state quarterfinals to Kansas City Piper.
Girls soccer honorable mention (alphabetical order): Tess Carpenter, Lawrence High; Rylee Fuerst, Free State; Shyanne Gergick, Tonganoxie; Clare Payne, Lawrence High.
Copyright 2018 The Lawrence Journal-World. All rights reserved. This material may not be published, broadcast, rewritten or redistributed. We strive to uphold our values for every story published.