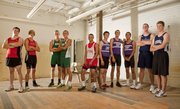 Boys track & field All-Area first team: Blake Hocking, Lawrence High; Austin Flory, Lawrence High; Austin Hoag, Free State; Kain Anderson, Free State; Dallas Natt, Ottawa; Carson Barnes, Baldwin; Brian Wright, Baldwin; Asher Hannon, Baldwin; Macauley Garton, Mill Valley; Derek Webb, Eudora.
Boys track & field athlete of the year: Lawrence High junior Blake Hocking
Hocking was the No. 1-ranked shot putter in the state this spring.
The junior won every meet he entered in the shot, including the Kansas Relays at Kansas University's Memorial Stadium.
Hocking also broke a 59-year-old LHS shot-put record, previously held by Bill Nieder, on April 29 with a mark of 62 feet, 9 inches (Nieder's mark was 60 feet, 93⁄8 inches).
Boys track & field coach of the year: Mike Spielman, Baldwin
Spielman and the Bulldogs won the Class 4A state championship (tied with Louisburg, 43 points) on May 28 in Wichita. It was Baldwin's first state boys track championship since 2002.
Boys track & field honorable mention (alphabetical order): Jesse Austin, Baldwin; Garrett Colglazier, Santa Fe Trail; Adam Farnow, Mill Valley; Kenneth Hopkins, Wellsville; Addison Jones, Perry-Lecompton; Luke Kellum, Perry-Lecompton; Sam Merrill, Eudora; Logan O'Dea, Wellsville; Anthony Perry, Santa Fe Trail; Ashton Proctor, Mill Valley; Dylan Scates, Tonganoxie; Stan Skwarlo, Free State; Hunter Thuro, Wellsville; Dayton Valentine, Baldwin; Josh Whittaker, Santa Fe Trail; Adrian Whittington, Tonganoxie; Jake Willis, Tonganoxie.
Copyright 2018 The Lawrence Journal-World. All rights reserved. This material may not be published, broadcast, rewritten or redistributed. We strive to uphold our values for every story published.