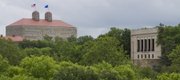 Subscribe to the email edition of Heard on the Hill and we'll deliver you the latest KU news and notes every weekday at noon.
Your daily dose of news, notes and links from around Kansas University.
• I've included a video from the KU Alumni Association about its Hawk Days of Summer events, which have begun. They'll be headed to 120 events across the state (and beyond) in 90 days.
I pass along this video because of former KU basketball player Scot Pollard's amusing take on kilts and wearing them for playing golf (which is at about 1:30 in the video). He was at the Legends of KU Golf Tournament this week in Lenexa.
• Sixteen high school students — including three from Lawrence — are participating in a camp at the KU School of Law called the "Journey to J.D." camp that's designed to encourage high school students entering their junior year to pursue legal opportunities in the region.
Participating from Lawrence are Alina Zheng and Emily Van Schmus from Free State High School and Noah Nunn from Lawrence High School.
Activities include a trip to Topeka to visit the Brown v. Board of Education site and meetings with Kansas Appeals Court Judge Karen Arnold-Burger and other members of the legal community.
This is the second year that the law school has put on the event.
• KU has many (many) summer camps. Another Lawrence student — Anna Groenhagen from Lawrence High School — is attending the School of Pharmacy's summer camp, where students learn about pharmacists' daily routines, their code of ethics and more.
Here's a complete list of all the summer camps going on at KU.
They've probably got something you're interested in, even if that's Modern Missing Data Methods.
• I'm pulling a rotation on the night shift at the Journal-World, so I'll need some tips for Heard on the Hill to keep me awake. Send them to me at ahyland@ljworld.com.
Copyright 2018 The Lawrence Journal-World. All rights reserved. This material may not be published, broadcast, rewritten or redistributed. We strive to uphold our values for every story published.