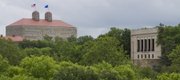 Subscribe to the email edition of Heard on the Hill and we'll deliver you the latest KU news and notes every weekday at noon.
Your daily dose of news, notes and links from around Kansas University:
• I learned something new while reporting on the departure of Marlesa Roney as KU's vice provost for student success. She'll become a professor of the practice at KU's School of Education.
I had never heard that term before, so I went on a little fishing expedition. And, lo and behold, here's a policy document that explains a little more about it.
As it turns out, the position is intended to enable KU to hire people with extensive professional backgrounds on the faculty as teachers and professors.
It's a nontenure track position for a maximum of three years in the initial term. Research is supported but not required.
If, after the initial term, the instructional unit is happy with the person's performance, the person can be re-appointed for up to five years.
KU approved the policy in 2009, but I'm not sure how many of these "professors of the practice" are out there. Anyone else know of some?
• Lori Reesor, a former KU associate vice provost for student success, moved on to the University of North Dakota to become a university vice president there.
Three months in, Reesor is involved in an interesting situation, according to the Grand Forks Herald.
As the newspaper describes it, as part of a reorganization, she eliminated the position of an associate vice president who had been serving at the university since 1974.
Reesor told the newspaper that the firing was part of a broader reorganization of the student affairs office and did not reflect on the associate vice president's performance.
It apparently caused enough of a stir to get the local newspaper interested, and I thought the situation interesting enough to mention here.
• Finally, a welcome to Tim Caboni, KU's vice chancellor for public affairs, who officially began in his post this week.
With that, he becomes the highest-ranking KU official (that I'm aware of, anyway) to maintain an active Twitter account.
Former Chancellor Robert Hemenway had a Twitter account briefly, but it really was more of a gag for his last commencement speech, and I'm not sure he ever actually got in and operated the account himself.
But I can confirm — it's really Tim in there. And I'd be curious to know if I'm wrong about that highest-ranking KU official with a Twitter account thing …
• I'll be out all day at some of KU's Mini College events writing another story for our upcoming special KU edition that comes out every year near the beginning of the fall term. But that doesn't excuse you from sending in tips for Heard on the Hill. Keep them coming at ahyland@ljworld.com.
Copyright 2018 The Lawrence Journal-World. All rights reserved. This material may not be published, broadcast, rewritten or redistributed. We strive to uphold our values for every story published.