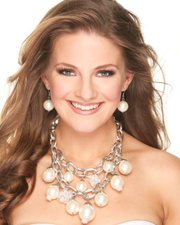 A woman who graduated from Bishop Seabury Academy, lives in Baldwin City and will attend Kansas University this fall is competing this week in Pratt as Miss Arkansas Valley — for the title of Miss Kansas.
Angela Thomas, 19, is among two dozen contestants in the scholarship pageant, which has preliminary performances Thursday and Friday. The finals are Saturday night.
Thomas will compete in talent Thursday, performing "Habanera" from the opera "Carmen." She is scheduled for on-state question, swimsuit and evening wear Friday.
Thomas, who plans to major in vocal performance at KU, has chosen "Music Education in Our Schools" as her platform issue.
For more information, visit MissKansas.org.
Copyright 2018 The Lawrence Journal-World. All rights reserved. This material may not be published, broadcast, rewritten or redistributed. We strive to uphold our values for every story published.