Past Event
When: Saturday, June 11, 2011, 9 a.m. to 8 p.m.
Where: Various Locations
-->
-->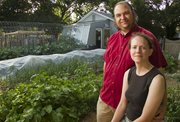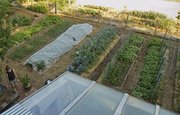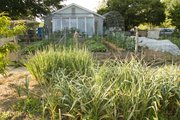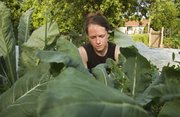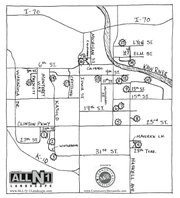 The Lawrence Food Garden tour is going halvsies.
This Saturday, the third-annual tour of private and community food gardens around Lawrence will welcome visitors during the coolest part of the day — 9 a.m. to noon and again from 5 p.m. to 8 p.m.
It's a split designed not only to avoid the scorching afternoon heat, but also to allow tourists a way to get to all 19 of the gardens.
Among the stops this year are gardens of all sizes and ages, from first-year raised beds to the more extensive food-selling operations.
"Our goal has always been to demonstrate the full range of food-growing possibilities," says co-founder Amber Lehrman. "So, from the very first year, we tried to get a variety of community gardens, a variety of home gardens — small, medium and large. And as the tour's grown, we've tried to get more commercial gardens, because there are a few commercial gardens inside the city limits. Then, of course, the school gardens have started up in the last couple of years.
"We make a deliberate effort to reach a wide cross-section of gardens that are out there."
Here's a look at a few of this year's gardens and the gardeners who tend them.
Hale's Kitchen Garden
Caryl Hale doesn't have to run to the store as much as she just has to step outside when shopping for dinner ingredients.
The Lawrence mom of three and her husband Aaron started their kitchen garden in 2007, working to keep things organic and no-till. Four years later, they've got a small, but thriving space that includes raised beds, and irrigation system and plants shoehorned in using the companion planting method.
"We've started to experiment with companion planting, which (means) you plant certain plants together that benefit either the soil or they prevent certain pests or they attract beneficial bugs," says Hale, who does most of her cooking from scratch and has learned how to use as much of each harvested plant as possible. "So, we've been experimenting with that and trying to see what will work, if it works."
Not just a food source, the garden is also providing educational experiences for the couple's three children, ages 12, 3 and 2 years.
"It is important to us that our children know how to grow their own food and how to make the most of the resources they have," Hale says.
Kirsten Bosnak's Moonfarm Garden
Art and food collide in Kirsten Bosnak's North Lawrence garden. Bosnak has the traditional raised beds, but she also has what she lovingly refers to as her "Medicine Wheel Garden."
"There is a large central circle garden and pathways going out the four directions and I have four quarter-circular beds around the center with medicinal plants in there," Bosnak says of the 25-foot by 55-foot garden. "And I also used the remainder of the four quadrants of that bed to build up mounded beds in amorphous shapes using the sod that came from the initial till of the bed. I just mounded up those piles of sod, covered them with newspaper and straw and used those as planting beds for annual vegetables, tomatoes, peppers and basil and other things."
The artistic feel to the garden goes beyond the beauty the medicine wheel provides. Bosnak says eventually, she'll probably eliminate her lawn entirely and give the whole lot to the coveted North Lawrence soil she calls "chocolate."
"I'm very interested in doing artistic things with my garden, not just food production, which is the main thing, but I'm as interested in making it an artistic space," Bosnak says. "I have this interesting fence, I have this interesting garden ... I am interested in laying the beds out in a way that you can walk within the space and enjoy being inside the space."
Pine Tree Community Garden
Not every garden on the tour is at a single-resident lot or all-out farm. Not only are community gardens and school gardens on the tour, but there's an in between — the garden at the Pine Tree Townhouses in East Lawrence.
In its second year, this garden is for the tenants of the townhouses and includes 14 plots the co-op's residents can apply to use. The garden has not only used up empty space in the complex's common area, but it also has helped build community by connecting residents says Will Stewart-Starks, garden co-chair.
"I think it's just really good space to get to know the people you're living around, your neighbors," Stewart-Starks says. "Hopefully, (we will) intrigue people into the idea of cooperative living and the potential of living in a place where you can vote for how you want to live and how you want to share with other people in your community."
Lehrman Family Homestead
Want to know just exactly how much food you can grow on a typical quarter-acre lot?
The Lehrman family details the possibilities with a sprawling garden that has produced more than 1,000 pounds of food each year for the last three years.
"The past three years, it's been 1,200, 1,200 and 1,500 that's we've harvested off the lot, though it's a standard quarter-acre suburban lawn. It's square, a corner lot, so our garden is the entire front yard on two sides," Lehrman says. "We have over 30 different kinds of vegetables and we have over 100 different plants growing on the lot. Multiple kinds of perennial plants — berries and fruit."
Lehrman says the family grows 30 to 40 percent of their own food, something they decided to do after learning about the self-sustainability group Path to Freedom in Pasadena, Calif.
"About 5 years ago, my husband and I were looking at whether we should move to the country or stay where we are," she says. "We got inspired by what they were doing and decide to see how much we could do of country stuff in town. And so, we've done quite a bit."
Copyright 2018 The Lawrence Journal-World. All rights reserved. This material may not be published, broadcast, rewritten or redistributed. We strive to uphold our values for every story published.